As the excitement builds for Manchester Pride Festival, there's one event within the celebration that stands out as a vibrant hub of LGBTQ+ positivity and community spirit: Community Lane at the Gay Village Party!
Community Lane
made its triumphant debut in 2022, and we've listened to your feedback to make it
even better
this year.
Presented in partnership with the
LGBT Foundation
, Community Lane is a unique initiative that brings together community organisations, charities, and the public sector to showcase the power of unity, liberation, and joy.
This interactive and inclusive experience located at the heart of the action on Chorlton Street caters to the diverse needs of the LGBTQ+ community, promising festival-goers an unforgettable experience. It's a peaceful retreat where you can enjoy sober spaces, wellness initiatives, relax, learn more about local organisations and shop to your heart's content!

Here are five reasons you'll love attending Community Lane at the
Gay Village Party
:
1. Our inspiring Activism Hub will ignite your passion for social justice


Community Lane introduces a brand new space that is sure to ignite your passion for change and social justice: the Activism Hub. This empowering space showcases a range of change-making initiatives that are shaping the future of the LGBTQ+ community and beyond - reminding us of the transformative power of collective activism.


2. It's an inclusive space for all queer voices


Community Lane opens its arms to unfunded community groups, providing them with a spot free of charge. This inclusive approach ensures that every voice is heard and represented, creating a diverse and dynamic space where community ties are strengthened. By attending Community Lane, you have the opportunity to discover and support local and national charities, organisations and businesses, each playing a vital role in making queer life in Manchester vibrant and fun. It's a celebration of unity and a reminder of the power of community!


3. Community Lane is a joyful celebration of LGBTQ+ Culture


Above all, Community Lane is a vibrant celebration of LGBTQ+ culture and the rich tapestry of the queer community. Through this initiative, Manchester Pride Festival shines a spotlight on the organisations, networks, and individuals who contribute to the city's vibrant queer life, and Community Lane serves as a platform to showcase their important work. By attending Community Lane, you really will be celebrating the spirit of Pride.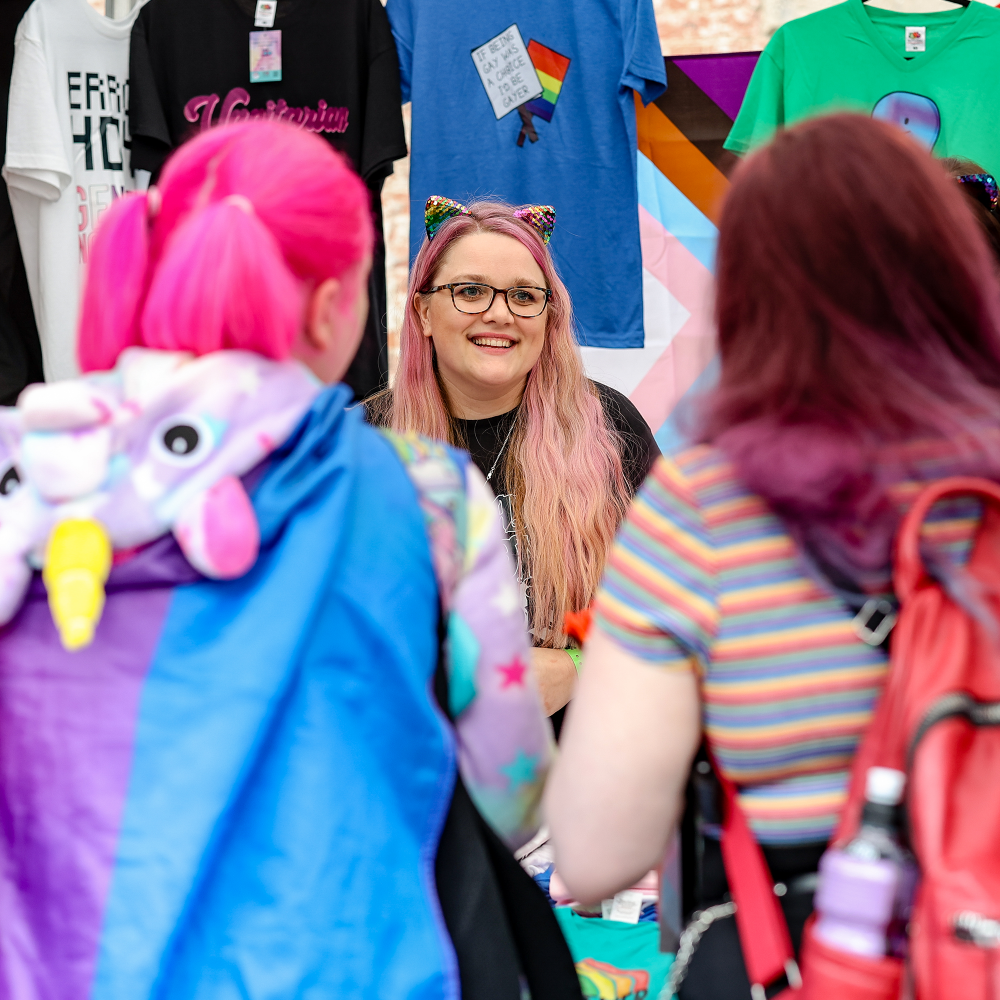 Photography: Gemma Parker Photography
4. Enjoy moments of tranquillity and sober spaces



Community Lane recognises and celebrates the diverse needs of the community. Sober Gay Socials are joining us to offer a safe and inclusive space for individuals who choose to celebrate without alcohol. Additionally, Community Lane offers a variety of well-being sessions where you can find moments of tranquillity and self-care amidst the vibrant atmosphere.


5. Visiting our markets means you'll be supporting local queer artists



Community Lane is set to dazzle festival-goers as Chorlton Street transforms into a vibrant hub of excitement and inspiration! This year we're stepping it up a notch and collaborating with Manchester Markets, offering you a treasure trove of unique finds from talented makers. From handcrafted goods to local artisanal products, you can explore a wide range of one-of-a-kind treasures while supporting the talented artisans of the local LGBTQ+ community. It's a chance to discover something truly special and take home a piece of Manchester Pride Festival!

We hope to see you there!