You're never too young to celebrate Pride!
Each year, Manchester Pride Festival offers a special programme of events especially for LGBTQ+ families and children to celebrate safely in a way designed just for them over August bank holiday weekend.
This year, we're thrilled to have teamed up with
Proud2BParents
to bring you an exciting round-up of amazing LGBTQ+ family events over Manchester Pride Festival!
We've pulled together a handy resource to help you plan your Pride weekend - from an exciting programme of events at Great Northern to family-friendly events at the Gay Village Party, there's so much to get involved with!
Check out our Family Guide to Manchester Pride for everything you need to know.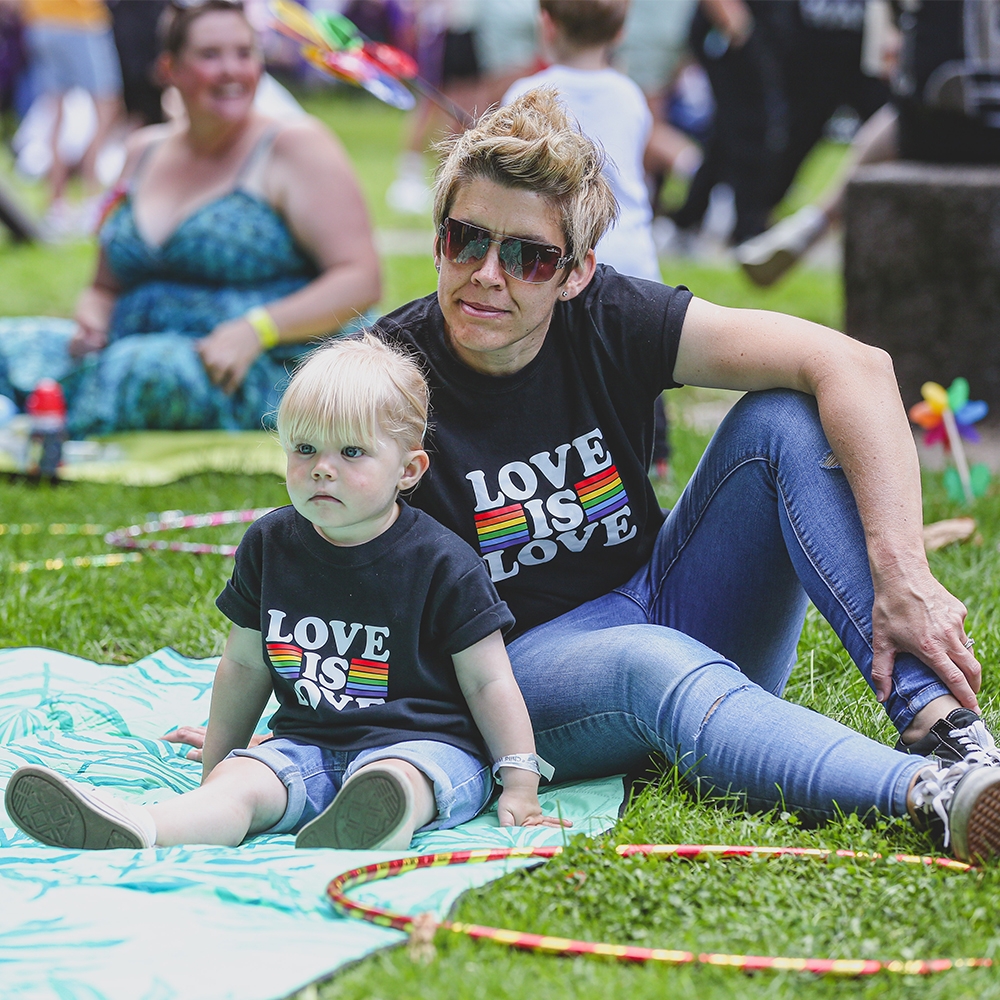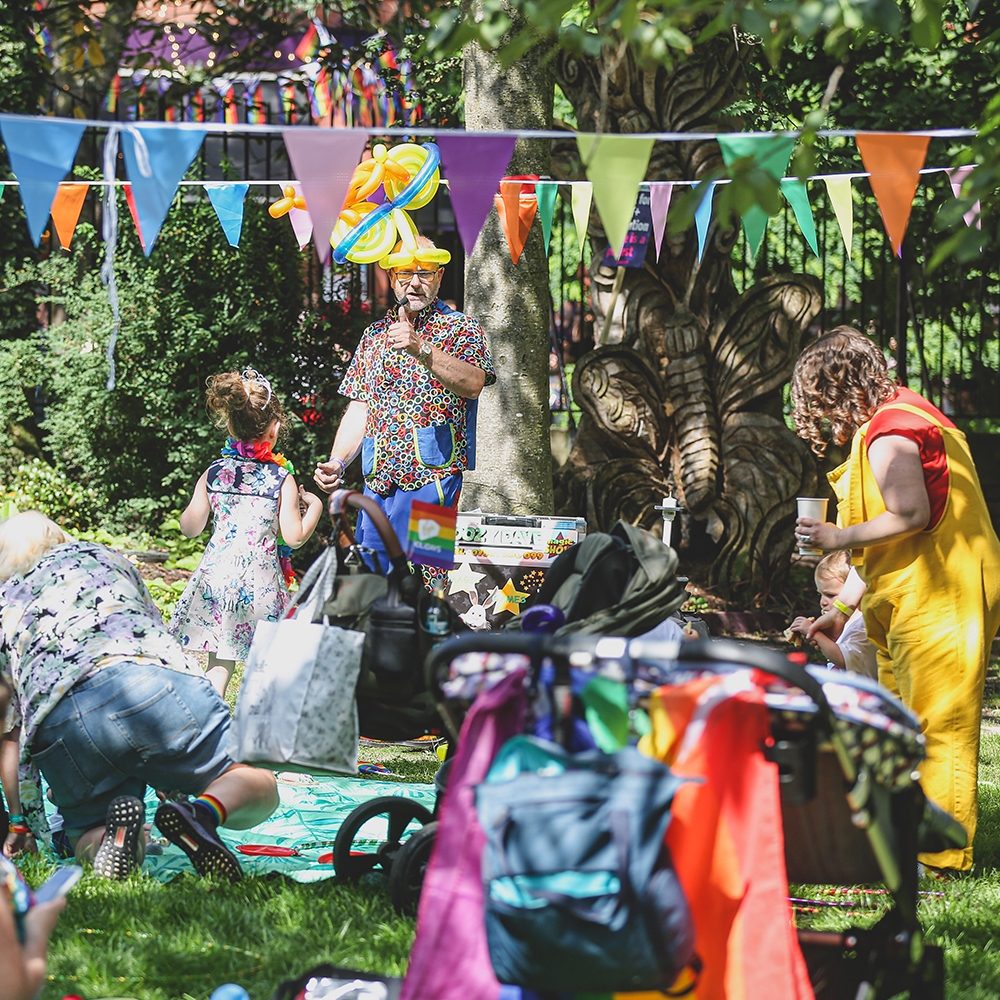 SATURDAY 27TH AUGUST
Family Pride MCRThe Great Northern, 12pm - 6pm Free to attend

Family Pride MCR, in association with Proud 2 b Parents, will take place on Saturday 27 August from midday until 6pm at The Great Northern and is completely free to attend.

Proud 2 b Parents, which has co-curated Family Pride MCR, is an inclusive organisation for all routes to parenthood, delivering services for LGBTQ+ parents/carers and their children living in the Greater Manchester area.
"We are really excited to team up with Manchester Pride once again, it's so important for the LGBT+ parent/carer community to be seen and heard, bring awareness and celebrate our differences. These events reduce isolation and give opportunity for our children to celebrate their family and learn more about the importance of 'Pride' - Matt Taylor-Roberts, Managing Director of Proud 2 b Parents


Our Palaver Party hosted in Great Northern's Square and Ampitheatre will create a messy, joyful and celebratory line-up of inclusive performance programming for children aged 3-8 and family audiences, providing essential representation of queer identities and celebratory spaces for children and families.
The non-stop rainbow party will include other fun such as a magic show, a mini disco, party games, prizes and arts and crafts, plus kids can play in the The Great Northern's sandpit. Expect a human library in the book nook, as well as some quiet chill areas and more on the first floor of the Warehouse building, up the escalators from the main entrance.

Check out the full line-up below for all you need to know!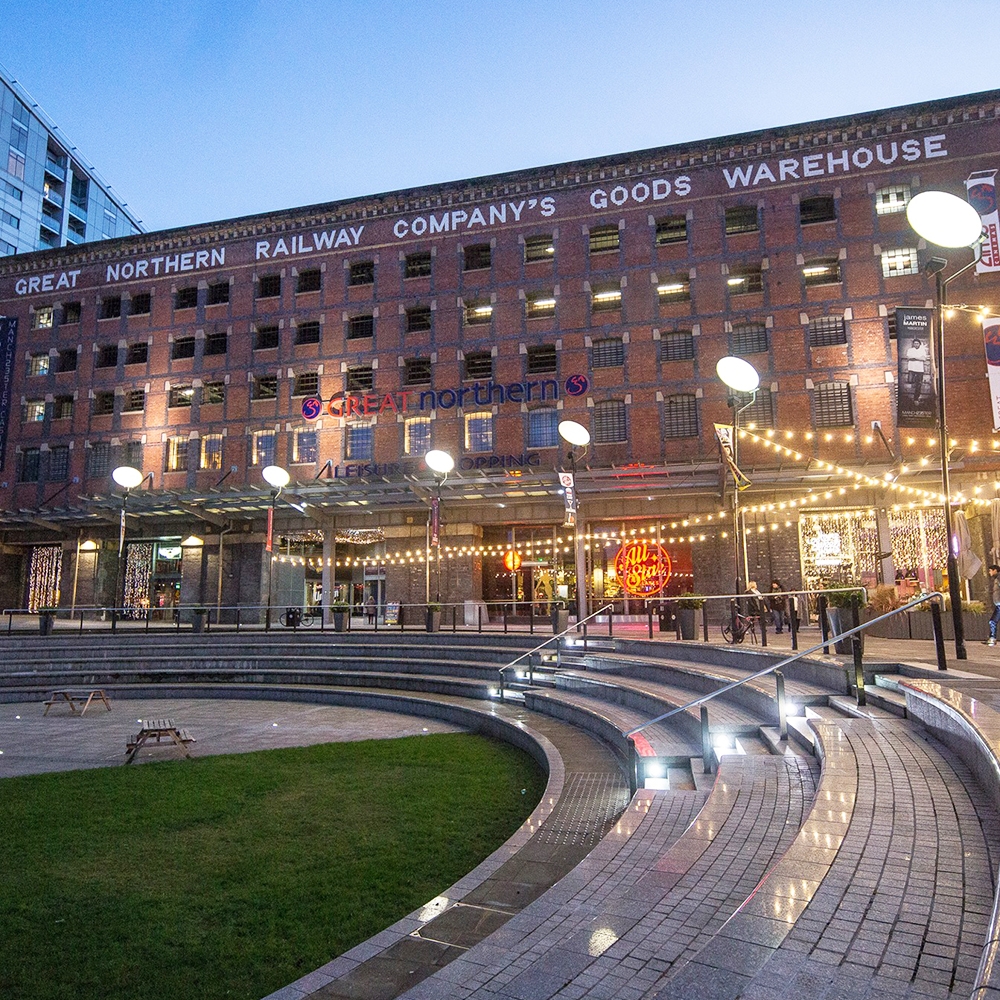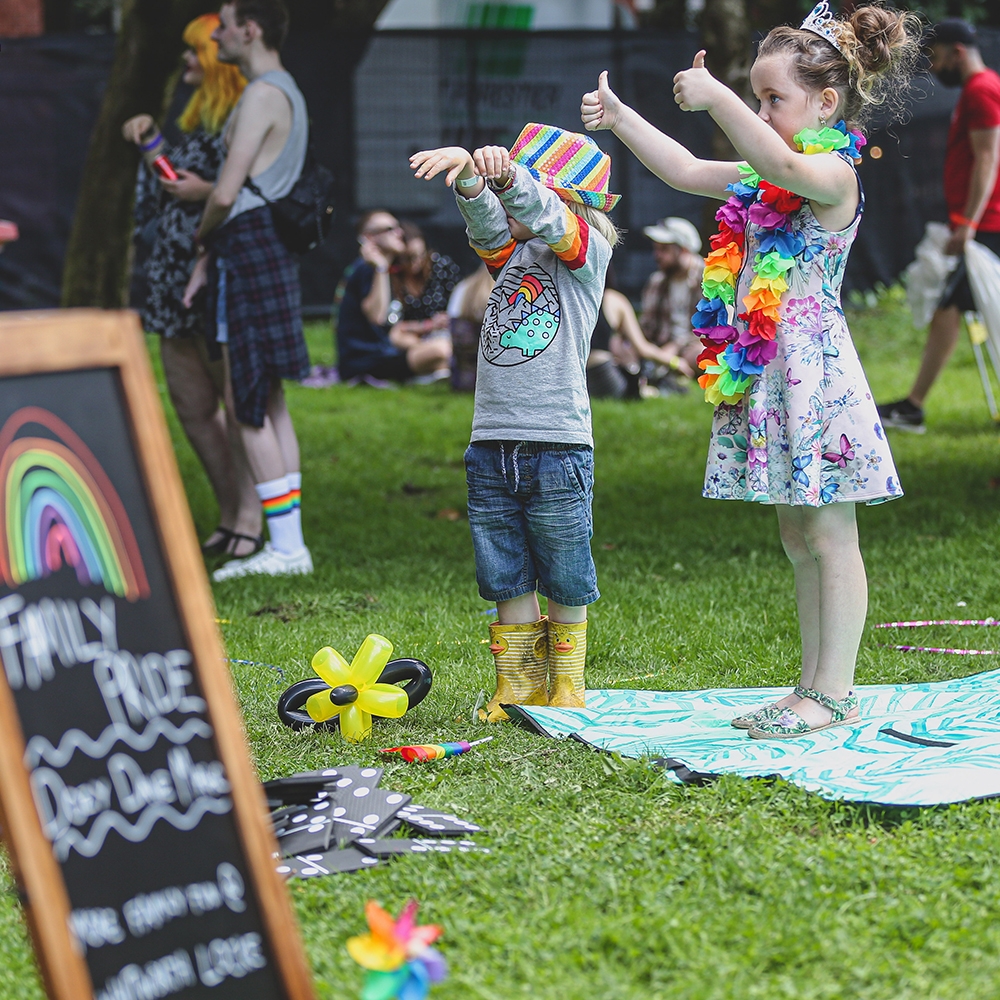 AMPITHEATRE


TIME | PROGRAMME
12:00 | Non Stop Rainbow Party
12:30 & throughout the day | Music, Walkabout Performers and Arts and Crafts
13:00 | PALAVER! Welcome & Games w/ Fatt Butcher
13:10 | PALAVER! Blu Romantic
13:20 | PALAVER! Performances: Lady Bushra
13:20 | Non Stop Rainbow Party
14:20 | PALAVER! Feeling Fabulous Dance Workshop
15:00 | Non Stop Rainbow Party
15:40 | PALAVER! Yshee Black
15:55 | PALAVER! Fatt Butcher
16:10 | PALAVER! Ginny Lemon
16:40 | Non Stop Rainbow Party
17:20 | PALAVER! Flick
17:30 | PALAVER! Cyro
17:40 | PALAVER! Carrot
17:50 | PALAVER! Mini Pride Parade


THE NOOK

1:30pm - 5:30pm | Human Library
Every hour on the hour


COMMUNITY HALL PARADE VIEWING

Proud 2 b Parents families will get the opportunity to watch the Manchester Pride Parade from this special vantage point as we March For Peace and fill the streets with colour!

This is a tickets only event and is exclusive to Proud 2 b Parents families.


GREAT NORTHERN FOYER

Come and say hello to our friends at Queer Lit in the Great Northern Foyer, who will be offering a range of LGBTQ+ children's books and accessories. Searching for LGBTQ+ kids books that reflect your families' structure? Look no further!

Head down to the Foyer where you can also enjoy...
KickStart CIC sports sessions for children aged 5-8 years - 1pm-5pm
Play area for over 5's
Play area for under 4's - 12pm-5pm
Live music
Rainbow feet trail
Extremely junk modelling - 1pm-4pm
Proud 2 B Parents stall
Face painting - 12.30pm-2.30pm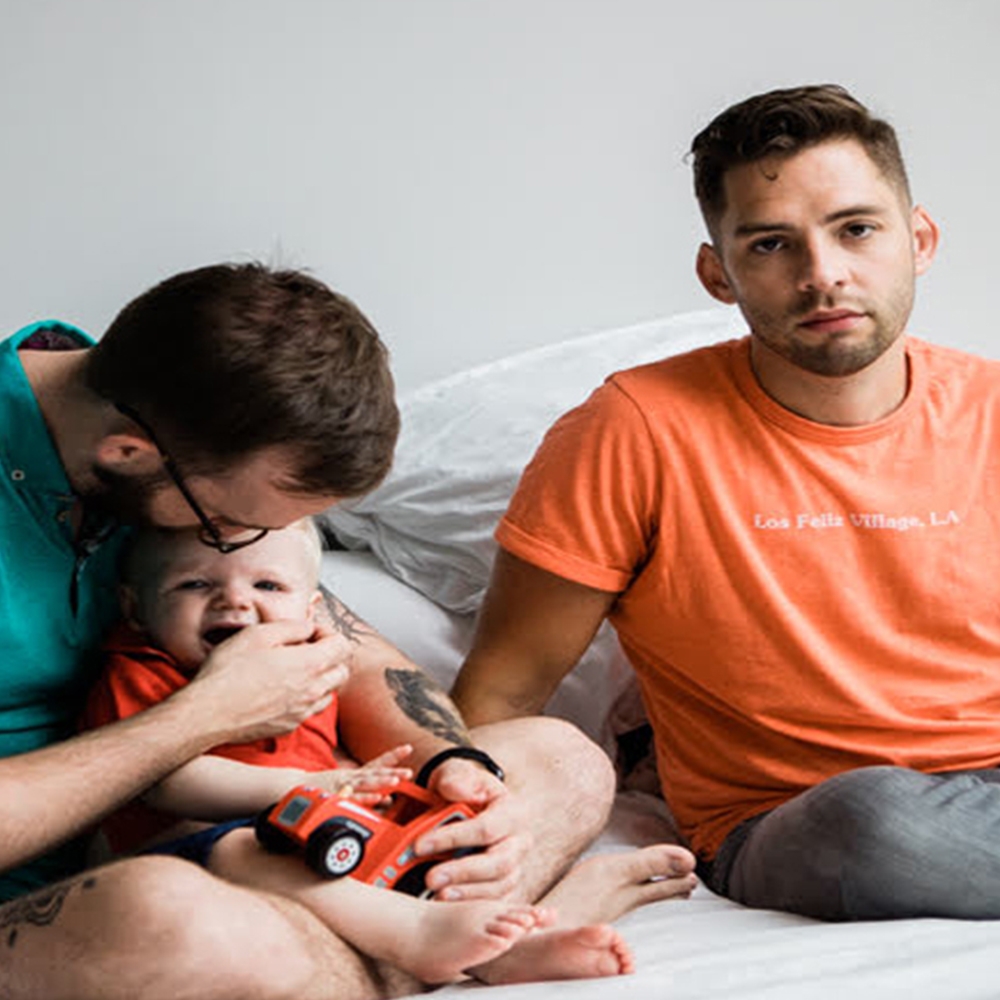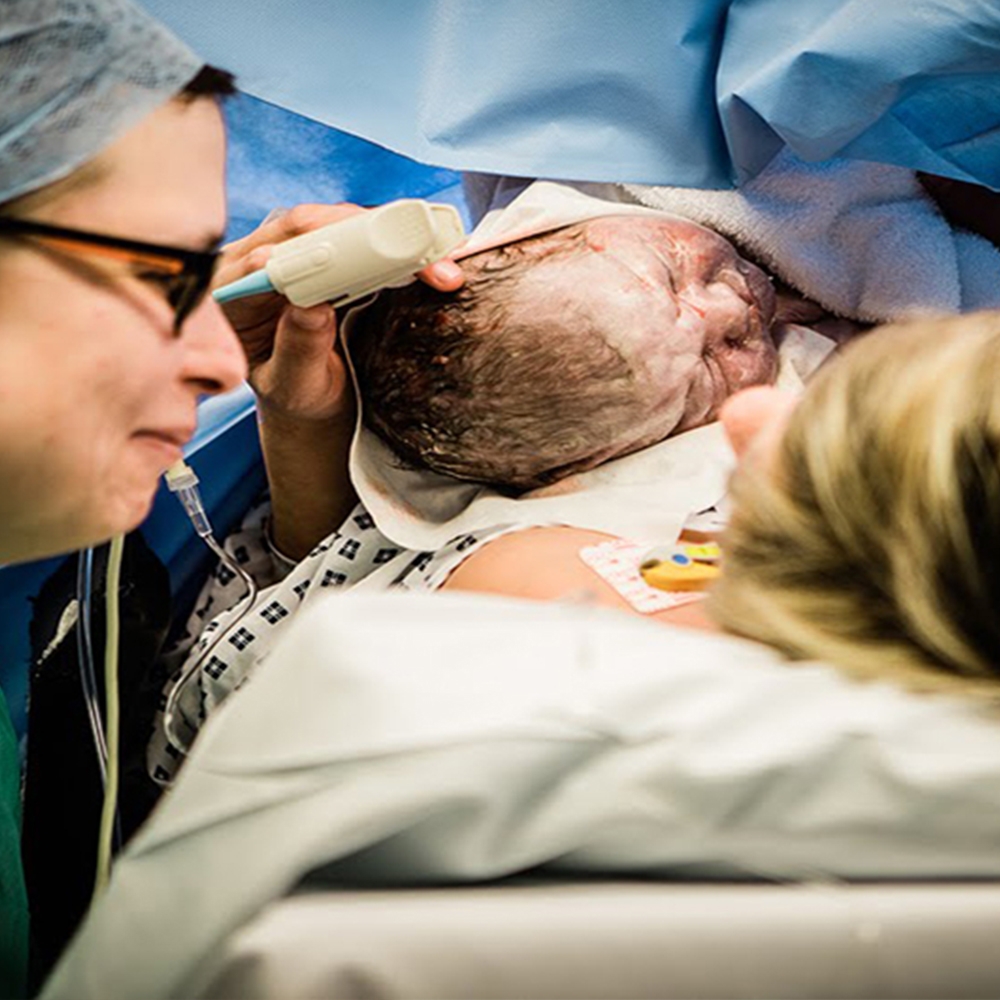 Unseen Community exhibitionBy Proud 2 b Parents and artist Allie Crewe

"I suppose I want this photo to tell you that I am like you! I am a parent too. I have the same overwhelming love for my child and the same fears, hopes and dreams... But I worry that you won't accept him because of his parents. I want our community to know that you too can be a parent. That it isn't something you can't be just because of the person you are." - Unseen Community exhibition
This photographic exhibition explores the dark of discrimination faced by the LGBTQ+ parent/carer community, and the light of family life. The exhibition sees families share their stories, difficulties and struggles whilst navigating the heteronormative idea of a family, capturing the 'normality' of real family life from the LGBTQ+ parent/carer community.
LGBTQ+ parents/carers and their children are often discriminated against due to both structural and societal inequalities and their intersectional identities, leaving many feeling isolated within the community as family based services do not often meet their needs. As well as raising awareness and understanding, the exhibition endeavours to challenge assumptions about this 'unseen community' and reflect the work of Proud 2 b Parents over the last fourteen years.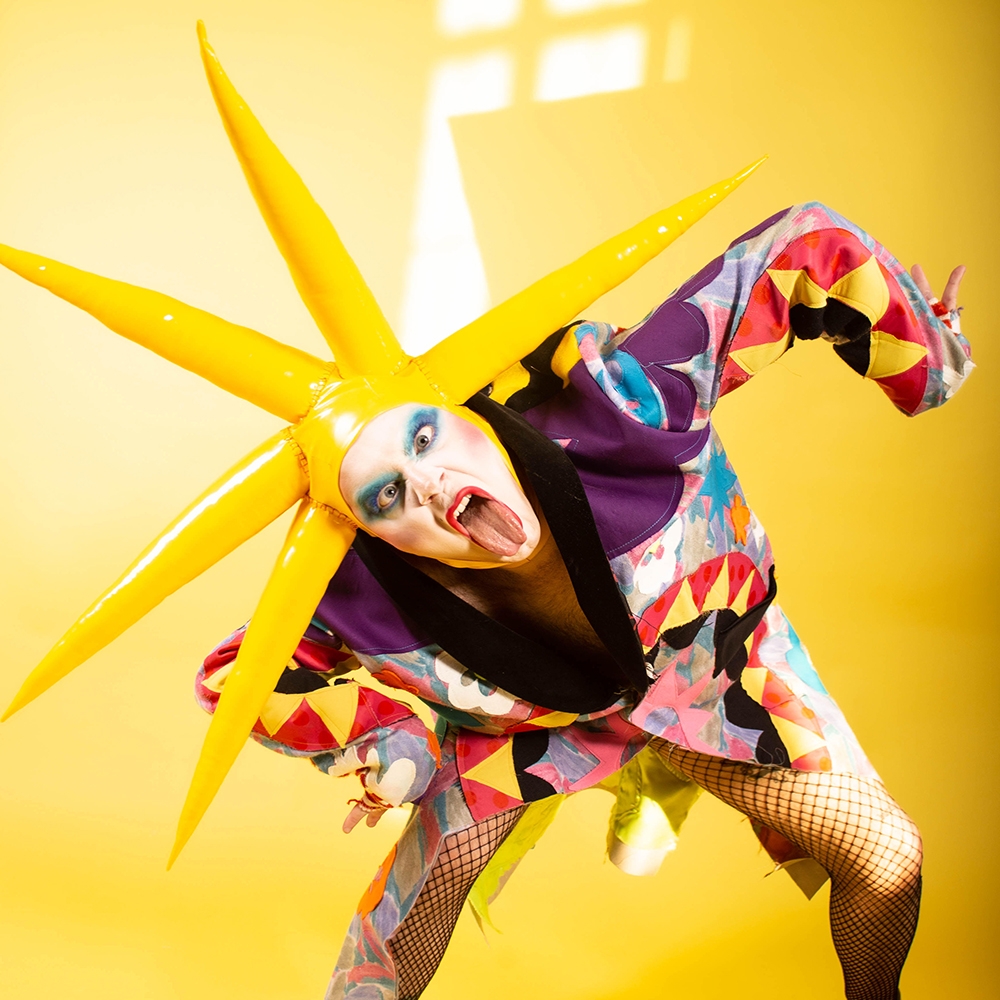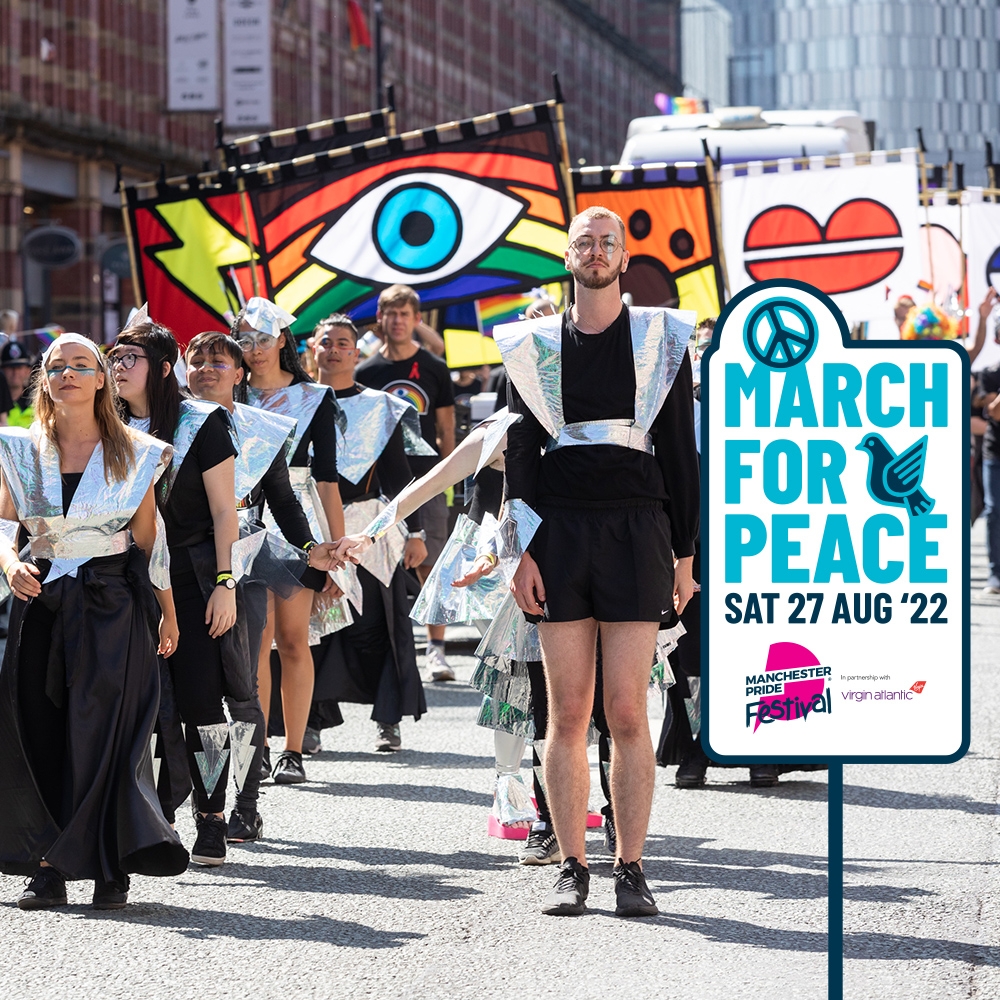 Manchester Pride ParadeSaturday 27th August Manchester City Centre
The theme for 2022's Parade is March for Peace, with the importance of peace in a world where all LGBTQ+ people are free to live and love without prejudice, at its heart. The Manchester Pride Parade promises to be a show-stopping, feel good procession to wow crowds across Manchester and send the world a big, bright, colourful message that everyone deserves to live and love in peace.
Ginny Lemon's Dog Show Saturday 27th AugustAlan Turing Stage, Gay Village Party
Calling all dazzling doggies, Pride pooches and playful Pups!
Get down to Ginny Lemon's Dog Show in Sackville Gardens for an unmissable doggy extravaganza celebrating our four-legged friends. We'll be showcasing Pride pooches, dog lovers and pups galore in Dog Show categories chosen by you! Join us for an afternoon of festivities and outrageous antics as Ginny Lemon hosts the dog show of the century at this year's Gay Village Party.
This is a safe and accessible event suitable for families, but please note that the second part of the show will contain adult themes. A ten minute break will be announced before our pups take to the stage, so anyone who wishes to leave is given plenty of time to do so.
>> TICKETS << Feel Good Fest (All ages) Saturday 27th August, 12pmFeel Good ClubNo tickets required
Feel Good Fest is an all-day-explosion of queer joy. With talks, live music, mixers and more. Bringing together all corners of our wonderfully varied community, Feel Good Fest is an all-ages event designed to make you feel good!
PROUD: Heard Storytelling Story Trail


PROUD is an audio visual exhibition celebrating Manchester's LGBTQIA+ community which will take to the city's shopping streets later this month to celebrate Manchester Pride.
Commissioned by Manchester Business Improvement District and curated by Heard Storytelling, visitors will be able to listen to the true spoken stories of 20 LGBTQIA+ people who live or work in the city, which will be accompanied by beautiful large-scale portraits of the storytellers, forming a trail of 'Living Portraits' through the city centre.
From the streets of Jamaica, stages of Manchester, dressing rooms of working men's clubs and the nation's TV screens, the audio recordings will take listeners on personal and candid journeys around the theme of 'Proud', with the importance of representation at their core.
Spoken stories will be accessed via scanning a QR code on listeners' mobile phones located next to the storyteller's portrait, as well as being hosted online atwww.visitmanchester.com/proud for those unable to visit the trail.
PROUD runs from Saturday 20 August - 2 September and will be hosted in the windows of shops, restaurants and businesses across the city centre including Selfridges, Harvey Nichols, Exchange Square at Manchester Arndale, Royal Exchange building on Exchange Street and Kala and Kuoni on King Street.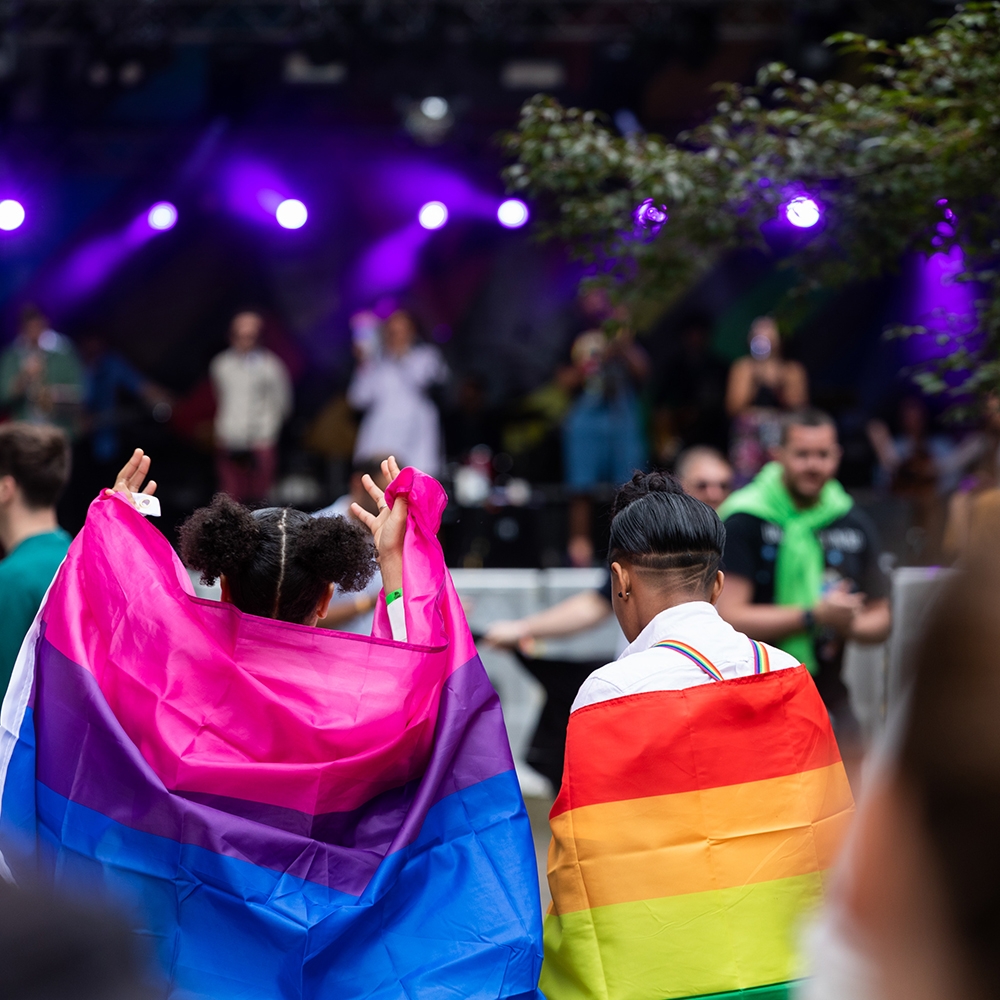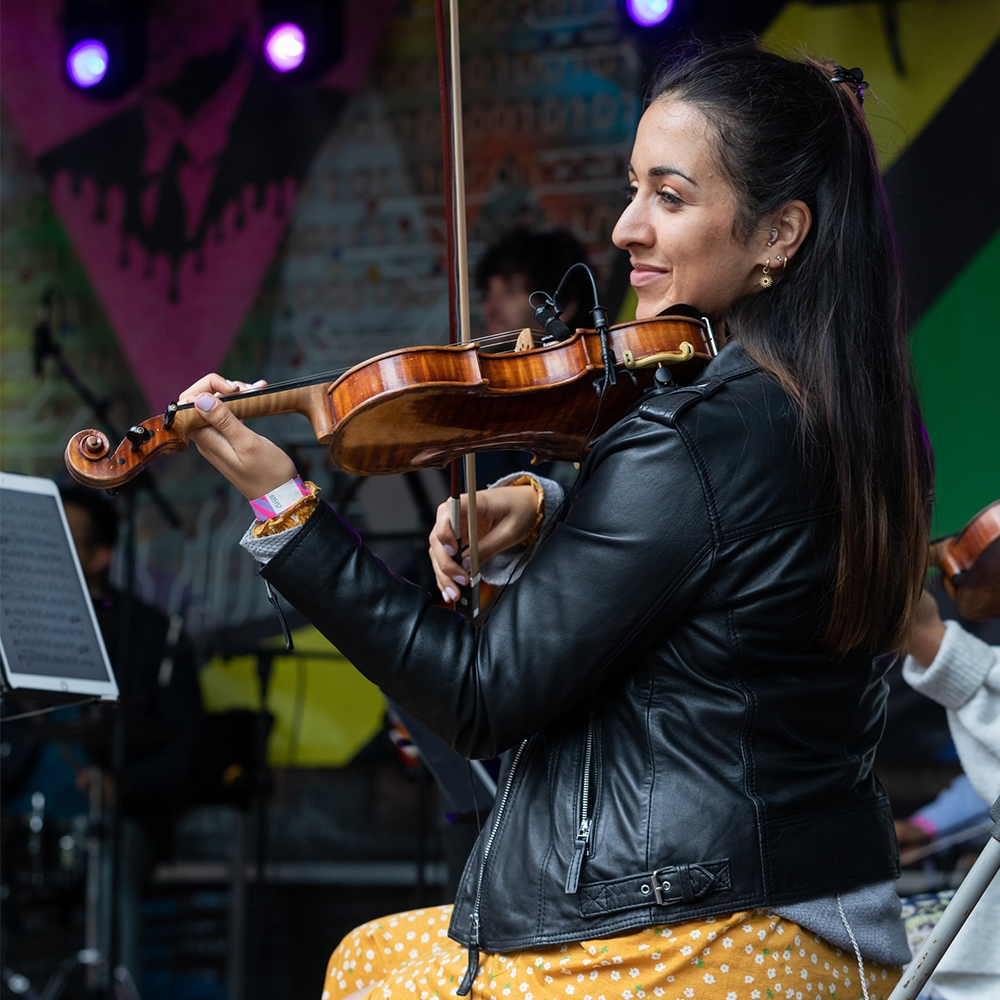 MONDAY 29TH AUGUST

Disney Orchestra
Alan Turing Stage, Gay Village Party

Join us at the Gay Village Party for special performance from the Untold Orchestra, who will be playing a selection of Disney classics on Monday 29th August!

The Untold Orchestra is a Manchester-based organisation made up of creative freelancers across Manchester. They are set on changing the orchestral world, making it a more accessible art form for audiences and communities across the city.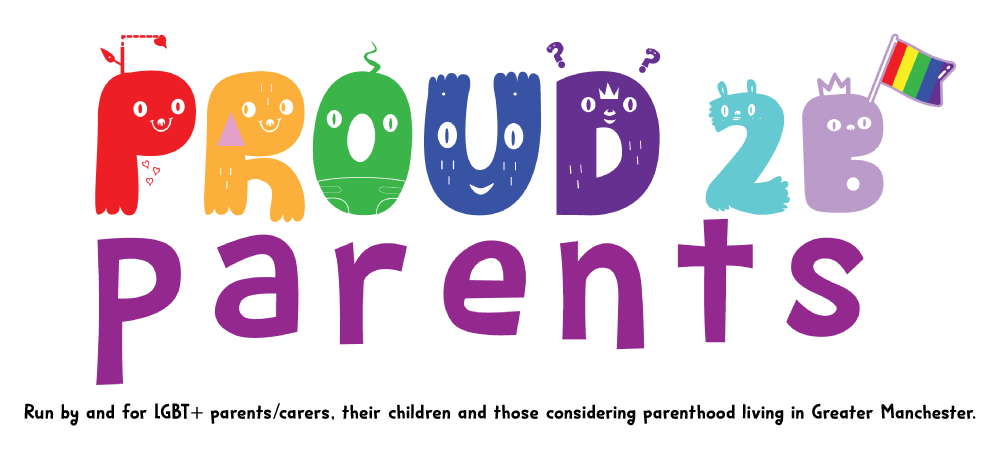 Resources
Proud 2 b Parents is an inclusive organisation for all routes to parenthood.
'We are run by and deliver services for LGBT+ parents / carers to be, LGBT+ parents / carers and their children living in Greater Manchester (and the North West). We know how rare organisations like ours are so our ethos is: if you're willing to travel we're happy to welcome you!'
Proud 2 b Parents run a variety of services to meet the needs of the community. These include:
Mid-week meet-ups based in Greater Manchester families who are off in the week;
Monthly Get-Together usually held on the fourth Sunday of the month based at a soft play centre in Trafford;
'Proud 2 b Me' youth group for young people aged 8 and over who have LGBT+ parents or carers;
'Parent 2 b' digital meet-ups;
Digital ' Parent Support Sessions';
Family fun days and seasonal parties;
Regional Pride event family zones;
Parent's Night Out (or 'in');
Holiday provision meet ups
Our Champions work
Training and consultancy
A variety of other engagement activities.
>> Check out Proud 2 b Parents'
Pride Top Tips for Parents
! <<