We're delighted to bring another incredible Family Pride MCR event to Great Northern in partnership with Proud 2 B Parents, along with many other brilliant events for LGBTQ+ parents and their families!
Top Pride Tips from Proud 2 b Parents!
Stay Hydrated and Energised: Don't forget to pack water and snacks for your little ones to keep them fueled and ready to party! Dancing and celebrating can be tiring, so keeping everyone hydrated and nourished is key.

Weather-Ready Essentials: Manchester weather can be quite unpredictable, so be prepared with suncream, hats, and waterproofs. Whether it's shining sun or unexpected rain, you'll be ready to embrace the festivities no matter what the weather is.

Explore Every Corner: The Great Northern site is bustling with vibrant activities and workshops. Take the time to explore every nook and cranny – you never know what surprises await you around the next corner.

Friendly Guidance: If you're unsure about anything or need directions, don't hesitate to reach out to the amazing MCR Pride volunteers or stop by the Proud 2 b Parents stall. They're there to make sure you have a fantastic day, so feel free to ask for help and information.

Unleash the Fun: Most importantly, let loose and enjoy the festivities! It's a day of celebration for our incredible community, so dance, sing, laugh, and make unforgettable memories.

Saturday 26th August

Family Pride MCR
12:00 - 18:00 @ Great Northern Square
Free, unticketed event
Supported by TUI | In Partnership with Proud 2 b Parents
Family Pride MCR is a safe, welcoming, and inclusive space for families to come together in a fun, enriching and empowering space, where families of all kinds can express themselves freely. You're invited to join us for a gorgeous celebration of love, self expression and inclusivity!

This fantastic free event—supported by TUI and in Partnership with Proud 2 b Parents—is part of the iconic Manchester Pride Festival and promises a day filled with laughter, music, performances, and all-around fun for everyone.

Co-designed with Fatt Projects, a queer performance company renowned for its vibrant and joyful celebrations of diversity, Family Pride MCR promises to encapsulate the essence of unity, empowerment, and positive change within the community.

Highlights include...

PALAVER Party by Fatt Projects
A flamboyant performance party designed especially for kids (and their grown-ups too). Featuring drag, cabaret, performances, fabulous discos, and creative workshops, the PALAVER Party is an experience like no other.

Mini Pride Parade
Join in the fun as we create our very own mini pride parade.

Crafting
Glue and glitter galore, get creative and crafty with your whole brude.

Rainbow Disco for All
Dance the day away at the joyous rainbow disco, creating unforgettable memories with your family.

Other activities available for children include baby sensory, baby noise making workshop, story time in Book Nook Library. The Great Northern Warehouse will host indoor extended play space in the Atrium with lawn games, table tennis and a colouring. There will also be a quiet zone, feeding area, pram park and changing facilities.

LINE-UP:
Ginny Lemon
Family Catwalk Extravaganza Pride Remix
Lady Bushra
Hula Hooping with Symoné
Fatt Butcher
Blu Romantic
Cyro
Carrot
Flick
Cake Boi
Check out the Proud2 Be Parents stall to get involved with this fantastic organisation and purchase wonderful inclusive children's books provided by Queer Lit.
We understand that not all families and children wish to be included in photographs of the Family Pride MCR event, so you can collect a sticker to wear from the Proud 2 b Parents stall that will let our photographers know not to take your picture and to exclude your image from any publications if you do appear in any photos*.
*After the event, if you or your children do appear in any photos when you do not wish to be, please let us know by emailing info@manchesterpride.com with a link to the image and we will remove it immediately.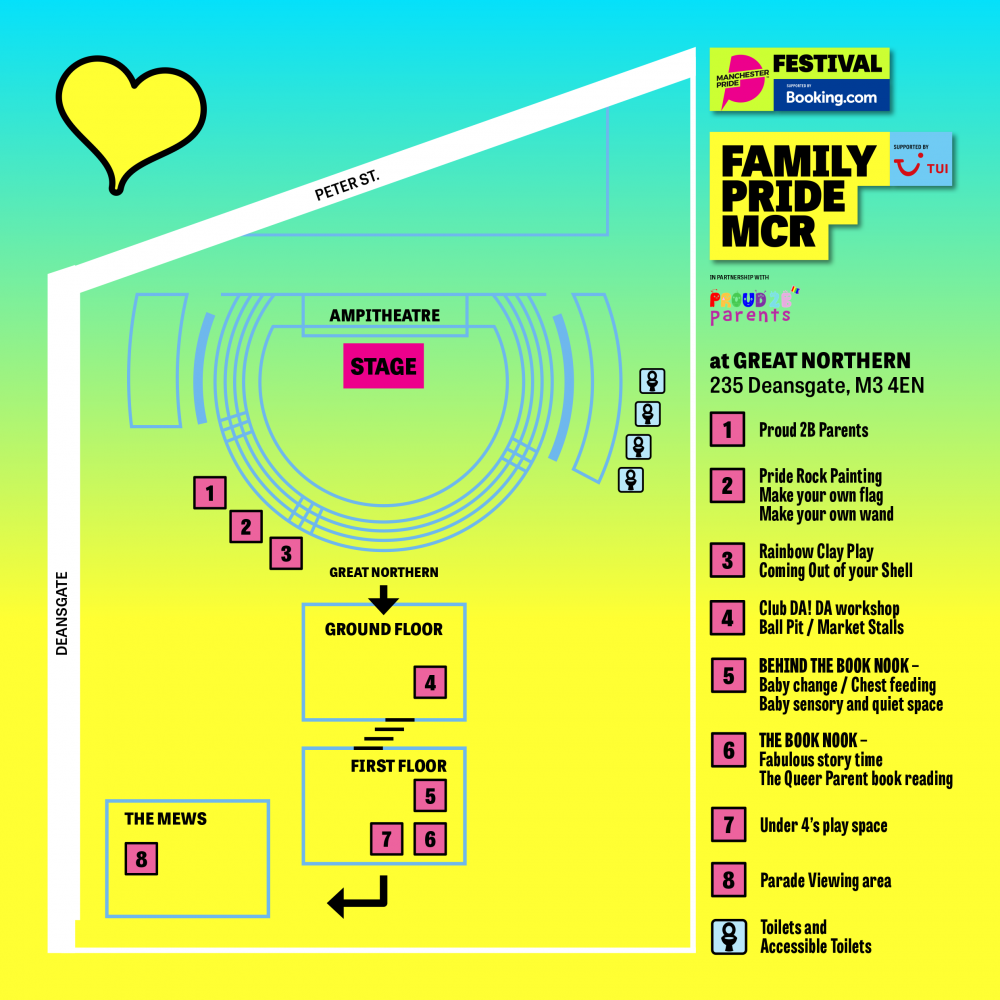 Proud 2 b Parents
Manchester Pride have partnered with fellow LGBTQ+ charity,
Proud 2 b Parents
who will support the delivery of the Family Pride MCR with information stall, LGBTQ+ children's book stall and directing families to all the activities on site. Proud 2 b Parents is also hosting a Parade viewing area again for LGBTQ+ families to enjoy the parade from an inclusive and welcoming area overlooking deansgate.

Fatt Projects

"Fatt Project's work for families is all about celebrating yourself, having a great time, and bringing the whole family together for an unforgettable party. It feels more important now than ever to ensure that children and families are a key part of pride celebrations, so we can let young people know that all kinds of families are loved, celebrated, and part of our community. We can't wait to see everyone there; so get your dancing shoes out, stick on a sequin or ten, and come join us for a fantastic day!" ~ Adam Carver, Director of Fatt Projects
TUI at Family Pride MCR

We are very proud to have the support of leading travel company TUI at Family Pride MCR. TUI will be bringing the holiday vibes, providing festival-goers with the opportunity to immerse themselves in beach-inspired activities. Featuring the famous Captain T from TUI kid's clubs, as well as spaces for families to kick back and relax.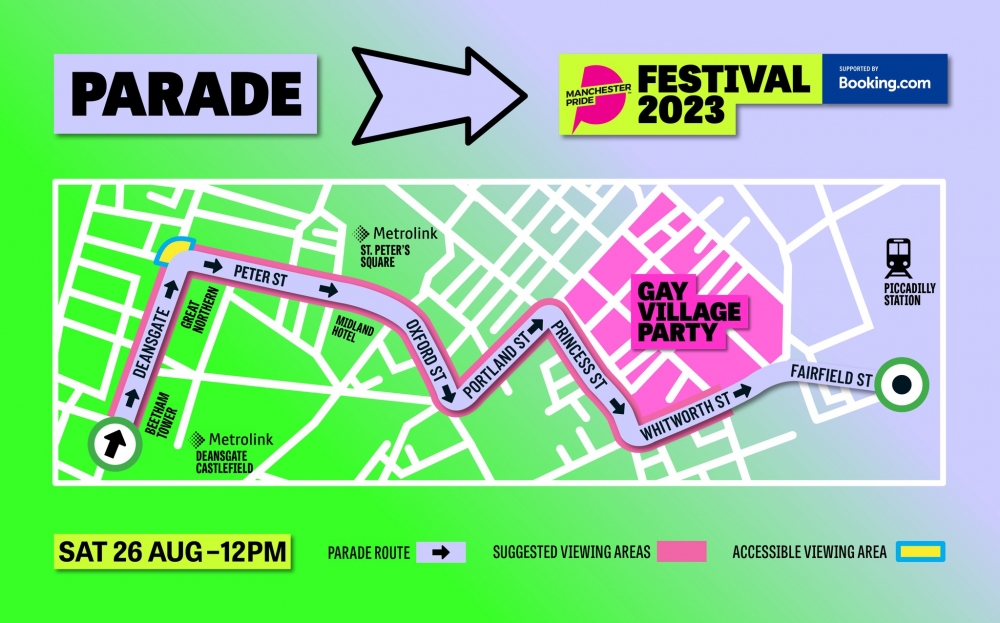 Manchester Pride Parade
12pm - 4pm @ Manchester City Centre
FREE

Get ready to make history and join the most vibrant and impactful parade in the city!
The Manchester Pride Parade
, part of the renowned Manchester Pride Festival, will take place on Saturday, 26th August, and this year's theme is "Queerly Beloved." It's a celebration of love, community, self-expression, and the transformative power of dance.
Kooth Workshop
15:30-17:30 @The Proud Place
FREE TICKETS

This workshop explores different identities under the LGBTQ+ umbrella, potential impacts on this community's wellbeing, and tips to better support the welfare of LGBTQ+ young people. We will also share information about the Kooth website and what support this can offer young people.
There will also be Kooth staff available for drop in conversations, support and signposting during the afternoon. For more information about Kooth, see here:
https://www.kooth.com/
.
This is a family friendly event for LGBT+ young people, their families and allies.

Sunday 27th August

Ginny Lemon's Dog Show
@ The Alan Turing Stage, Gay Village Party
13:00 - 15:30
TICKETS
Calling all dog lovers, Pride pooches and pups - Ginny Lemon's Dog Show is BACK for 2023!

Get down to Sackville Gardens on Sunday 27th August at 1pm for an unmissable doggy extravaganza celebrating our four-legged (and two-legged) friends, hosted by Ginny Lemon & Fatt Butcher and featuring special guest judges!

We'll be showcasing Pride pooches, dog lovers and pups galore, so join us for an afternoon of festivities and outrageous antics.

This is a safe and accessible event suitable for families, but please note that the second part of the show will contain adult themes. A short break will be announced before our pups take to the stage, so anyone who wishes to leave is given plenty of time to do so.

Monday 28th August
Family Brunch and Play Afternoon
12:00-16:00 @The Proud Place
FREE TICKETS

If you're looking for something relaxed this Pride weekend for you and your family, The Proud Place will be hosting a brunch and play afternoon for LGBTQ+ people and their families.
We'll have food, crafts and baking for you.
Activities include:
Bird and Blend tea workshop
Biscuit making and decorating
Painting
Lego
T-shirt customisation
Quiet zone

Disney Classics with The Untold Orchestra
14:00 - 15:45 @ The Gay Village Party, Alan Turing Stage
TICKETS

Get down to the Gay Village Party to enjoy a selection of your favourite Disney classics, performed by The Untold Orchestra!
The Untold Orchestra is a collaborative orchestra redefining what an orchestra is. Founded on the belief that all music should be accessible to anyone, they perform in venues across the UK, run creative workshops in communities across Manchester and are passionate about creating exciting orchestral opportunities for people and communities across Manchester and further afield.