The Gay Village Party 2023 was our boldest, queerest Gay Village Party yet!
The Gay Village Party is a diverse, inclusive queer-led and queer-run celebration of LGBTQ+ life and love in Manchester's world-famous Gay Village. This year we hosted the ultimate celebration of queer joy at the heart of the Manchester Pride Festival.
Our line-up that symbolised the importance of changing the conversation and elevating and showcasing the biggest queer artists, and focusing on putting community-led performance. We worked closely with our communities to offer a line-up that is for the community, by the community. Manchester is a pioneering City spearheading the global Pride Movement; we are so proud that our line-up put local queer performers alongside renowned international LGBTQ+ talent, with a little support from our allies.
The line-up consisted of
96% queer performers
,
54% female performers
,
51% people of colour
,
42% trans and non-binary performers, and 34% of performers being disabled or neurodivergent
. It's our queerest, most diverse celebration yet!
See the full line-up: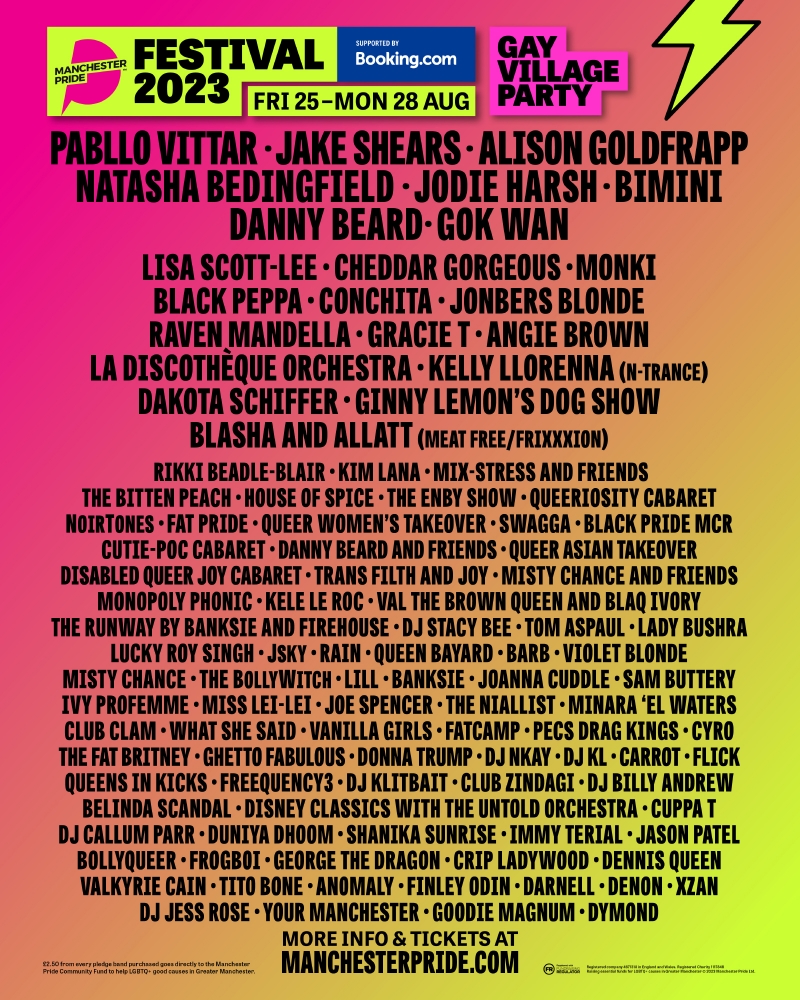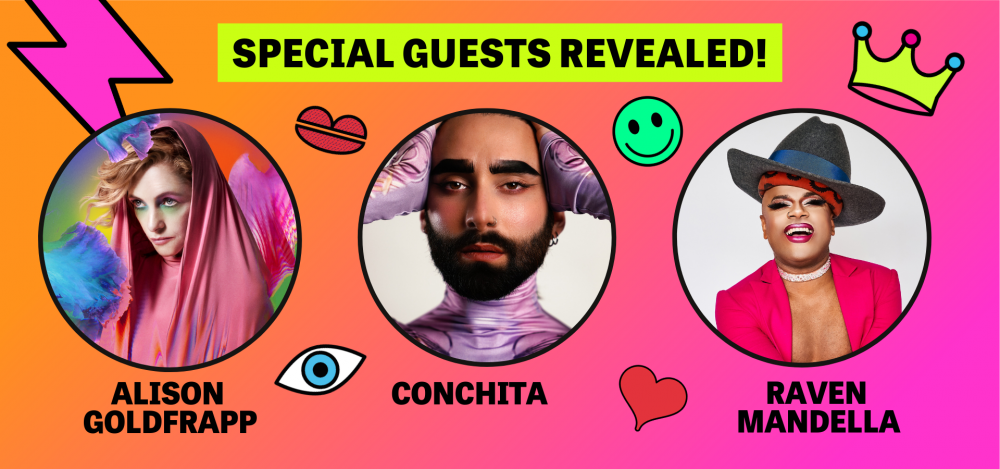 Iconic performers Alison Goldfrapp, Conchita Wurst and Raven Mandella joined us at the Gay Village Party this year!
These incredible performers were the latest to join the already highly-anticipated, ground-breaking line-up for the festival which delivered a star-studded weekend of celebrations.
Alison Goldfrapp, hot off the success of her debut solo album, "The Love Intention," performed alongside artists including Black Peppa, Jodie Harsh and international drag icon Pabllo Vittar. Alison Goldfrapp is the voice behind the chart-topping electronic duo Goldfrapp, whose hits such as "Strict Machine," "Ooh La La," "Ride A White Horse," and "Rocket" have left indelible marks on the global music scene.
Adding to the excitement, the "unapologetically Black and queer" dancer, drag performer and DJ, Raven Mandella lit up the Mancunity Stage as part of Black Pride MCR alongside SWAGGA and Kele Le Roc. As a world-renowned dancer and drag performer, Mandella ignited stages worldwide for stars like Honey Dijon, Groove Armada, Kelly Rowland, and Nile Rogers. His flamboyant shows at Heaven in London have made him a crowd favourite, as well as his performances with Sink the Pink, Ministry of Sound, and Defected's Glitterbox.
Austrian drag artist Conchita Wurst also joined the celebrations! Conchita won the Eurovision Song Contest in 2014 as Austria's entry with the song "Rise Like a Phoenix," and joined Booking.com in the Parade before taking to the Village Stage later that evening. Tom Neuwirth a.k.a. Conchita Wurst became a figurehead of the queer community overnight after the Eurovision win. Since then, he has released three albums, hosted TV shows, performed on stage across the globe and used his platform to support socio-political causes.
Brazilian sensation and the most followed drag queen in the world, Pabllo Vittar, headlined this year's Gay Village Party! With her feel-good pop anthems, Pabllo Vittar has not only released multiple smash-hit albums, she has collaborated with legions of pop acts, and performed all over the globe.
We were so excited to welcome Jake Shears back to the Gay Village Party. The American singer and songwriter is best known as the former co-lead vocalist of the band Scissor Sisters, and has since gone on to pursue a solo career, with his latest album Last Man Dancing out now!
We also welcomed back our homegrown legends as Danny Beard returned to the Gay Village Party with their brand new shiny crown as the reigning winner of RuPaul's Drag Race UK, to host Danny Beard and friends for the fifth consecutive year.
'Drag Hero' BIMINI headlined Trans Filth and Joy, which also made a return to the Gay Village Party this year. The takeover was co-produced with Milk Presents and Trans Creative UK, who were recently awarded a Community Fund grant to become a registered charity, and showcased an evening of pure filth and hot trans talent!
Brand new for 2023, House of Spice performed as part of the Queer Asian Takeover, which spotlights Asian and Middle Eastern communities and their queer brown joy. Gok Wan headlined the takeover and was joined by local talent including The Bitten Peach and Gracie T.
Gay Village Party 2023 Line-up
FRIDAY
Bimini​​ | La Discothéque Orchestra
Trans Filth and Joy | Tito Bone | Cyro | The BollyWitch | An0maly
Finley Odin | Darnell | Denon James | Xzan | DJ Jess Rose
Fat Pride | The Niallist | Ivy Profemme | The Fat Britney
Joe Spencer | Sam Buttery | Joanna Cuddle
Queeriosity Cabaret | Pecs Drag Kings
The Enby Show | Cyro | Flick | Carrot | Donna Trump

SATURDAY

Pabllo Vittar | Alison Goldfrapp | Conchita
Jodie Harsh | Gok Wan | Gracie T | Black Peppa
Monopoly Phonic | Tom Aspaul | Queen Bayard | Violet Blonde
Jsky | Black Pride MCR | Raven Mandella | Swagga
DJ Stacy Bee | DJ NKay | DJ KL | Kele Le Roc | Queens in Kicks
Goodie Magnum | Dymond | Queer Asian Takeover | Lucky Roy Singh
The Bitten Peach | Bollyqueer | House of Spice
Val the Brown Queen & Blaq Ivory | The BollyWitch
Immy Terial | Minara 'El Waters | Jason Patel
Shanika Sunrise | Duniya Dhoom | Club Zindagi

SUNDAY
Danny Beard and Friends
Jake Shears | Natasha Bedingfield
Lisa Scott-Lee | Danny Beard | Monki
Cheddar Gorgeous | Jonbers Blonde
Kelly Llorenna (N-Trance) | Angie Brown | Rikki Beadle-Blair
Bailey J Mills | Barb | Lady Bushra | Banksie | The BollyWitch | Lill
Ginny Lemon's Dog Show | Queer Womens Takeover | Kim Lana
Blasha and Allatt (Meat Free + Frixxxion)
Mix-Stress and Friends | Swagga
Club Clam | What She Said | Vanilla | Fat Camp
Cutie-POC Cabaret | The Cocoa-Butter Club
NoirTones | Ghetto Fabulous | Natasha Moonshine
Claud Cunningham | DJ Billy Andrew | DJ Callum Parr
Your Manchester Hosted by Belinda Scandal

MONDAY

The Runway by Banksie and Firehouse With Dakota Schiffer
Disabled Queer Joy Cabaret | George the Dragon | Frogb0i
Crip Ladywood | Mx Dennis Queen | Valkyrie Cain | Cuppa T
Misty Chance and Friends | Disney Classics with The Untold Orchestra
A £2.50 fixed donation from every ticket goes directly to the Manchester Pride Community Fund, and every penny goes to supporting LGBTQ+ causes and projects in Greater Manchester. So far this has included Mehfil, an event being produced by the House of Spice to celebrate South Asian and Middle Eastern cultures, and TINY's Barbershop, who are offering support and discounted haircuts for people who identify as Trans and Non-binary. You can see the first 15 projects funded by Community Fund Grants and Superbia Queer Arts Grants here.

The infographic below shows exactly where the money from each ticket purchase goes, this is based on the budget for the 2023 Manchester Pride Festival.