What are Pronouns?


People often speak to and about others using gendered language. When speaking of a singular human in the third person in English, many people tend to use pronouns which have a gender binary implied -- such as "he" to refer to a man/boy or "she" to refer to a woman/girl. We also use gendered language in the plural, such as 'ladies and gentleman', 'boys and girls' and so on.
These assumptions about the gender identity of another person are usually based on the person's appearance or name, and are based on stereotypes and social constructs we have been conditioned to believe whilst growing up. It is up to each individual to decide what pronouns they would like to use at any age. If you've always been comfortable with people using She and her pronouns in reference to you, and want to continue using those, that's fine! And equally, if someone who has always had people use He and him pronouns in reference to them has decided they want to use They and them pronouns, or no pronouns at all, as soon as we are aware of that it's important to respect it. #IChooseKindness


How do I know someone's Pronouns?


It's important not to assume someone's pronouns based on the way they look. It can be offensive to assume someone's pronouns based on appearances, so it's best to ask someone for their pronouns first in most situations. An easy way to find out someone's pronouns (before you assume what they are) is to introduce yourself with your own, and ask theirs.

Many people will include their pronouns on their social media profiles, in email signatures and even on badges that they wear daily. This is their way of letting you know their pronouns so you don't have to assume or ask - you can just start using the correct pronouns straight away! However, some people might not want to share their Pronouns, or they might not use them at all, so it's important to be respectful of how much people might want to share publicly.
"Hi, I'm Naz and my pronouns are He and him, what about you?"
What are all the different Pronouns someone can have?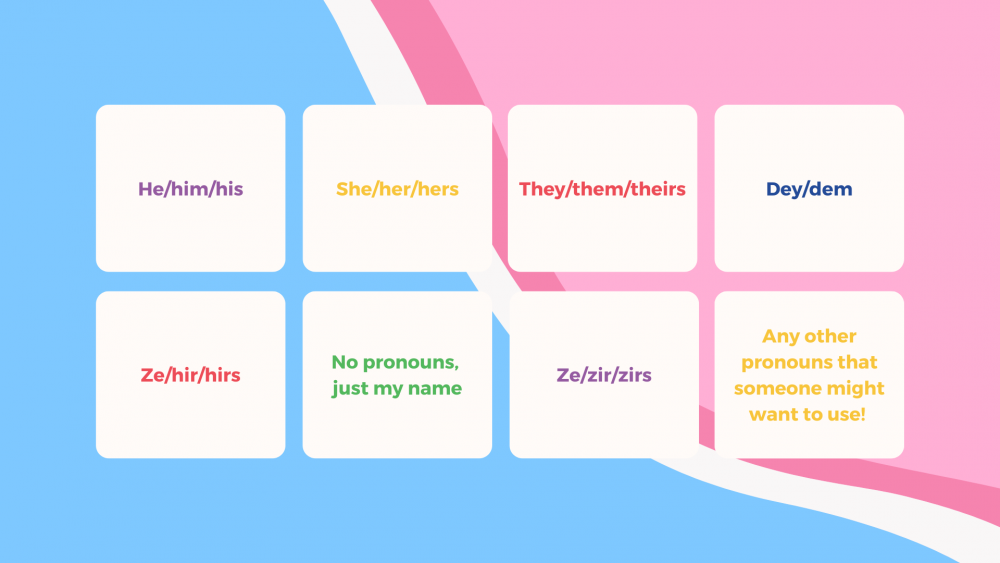 As well as whats above, someone may use other Pronouns that aren't as widely used, but work for them. Even if you don't fully understand what someone's Pronouns mean or represent, you should absolutely still use them out of respect for the individual.


How do I use gender inclusive language?


Many people already avoid assumptions about sexual orientation (e.g. asking a woman if she has a boyfriend). Many people have stopped using "he" as a universal language to refer to all people, or to exclusive "he" language or "she" language to refer to all fire fighters, all flight attendants, all doctors, all nurses, all administrative assistants, all college students, etc.
Similarly, we need to shift our language to avoid further assumptions that particularly harm transgender and gender nonconforming people. Small changes in language can make a big difference in peoples lives.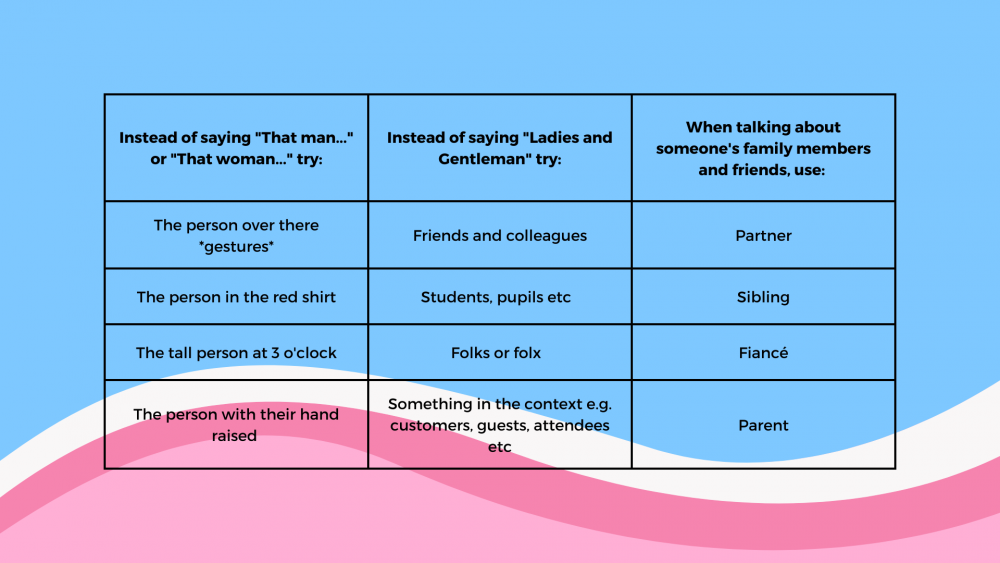 To help increase the visibility of gender inclusive language, one small change you can make is putting your pronouns on your social media profiles and anywhere else that's suitable.
What should I do if I accidentally use the wrong pronouns when speaking to someone?


Using the incorrect pronouns is referred to as 'mis-gendering'. If you accidentally mis-gender someone whilst speaking, the best solution is to just quickly correct yourself and continue speaking, there's no need to draw too much attention to it.
Example: "As I was walking towards him- Sorry, as I was walking towards them, I saw the red car drive past"
What if I hear someone else use the wrong Pronouns?


If you are in conversation with someone, and you believe they have made a mistake in calling someone by Pronouns which you know to be incorrect, consider the situation before speaking. Is it possible that the person in question is not out to everyone, and you could risk outing them? Or are they out to everyone, and you know that this person is aware of their correct pronouns, and has simply slipped up?
If the latter is true, please use gentle language to politely reaffirm the correct pronouns, for example:
If you hear "She did really well at the presentation earlier."
Respond with "Yeah, he did do really well." to gently correct them, hopefully they will notice and keep it in mind for future.
There is no need for you to push too hard on this as you may be overstepping a boundary by taking on someone else's battle in this instance.
This website also provides much more explanation, examples, and information about pronouns and gender inclusive language.

Much of this information was taken from Pronouns.org: