Manchester Pride is committed to improving the lives of LGBTQ+ people in Greater Manchester and beyond. We've engaged with bisexual+ members of our team and the wider community to deliver a campaign that aims to challenge the discrimination that bi+ people face, promote the advancement of bi+ equality, raise awareness and support for bi+ mental health, and support grassroots projects and initiatives that encourage the wellbeing of bi+ people in Greater Manchester.
The second post in our series focuses on unravelling some of common myths and stereotypes that the community faces, and how we can all work to be better allies to the bisexual+ community.
Before we get into the myths, here are some truths...
Bisexual people are known to face 'double discrimination'. As well as facing discrimination outside of LGBTQ+ spaces, bisexual+ people face discrimination from within the LGBTQ+ community, too.
As a result, bisexual+ people are far less likely than gay or lesbian people to be out to their family, friends, their work colleagues, their place of education, or within faith communities.
According to a 2018 study by
Stonewall
:
30% of bi men and 8% of bi women say they cannot be open about their sexual orientation with any of their friends, compared to 2% of gay men and 1% of lesbians.
27% of bi women and almost one 18% of bi men have experienced discrimination or poor treatment from others in their local LGBT community because of their sexual orientation, compared to 9% of lesbians and 4% of gay men.
A 2015 study by
Equality Network
found that:
66% of respondents feel that they have to pass as straight and 42% feel they need to pass as gay or lesbian when accessing services.
48% have experienced biphobic comments and 38% have experienced unwanted sexual comments about them being bisexual while accessing services.
61% have experienced multiple discrimination. Respondents said that the types of biphobia they experience depend on other aspects of their identity.
Only one in five bisexual people (20%) are out to all their family compared to three in five gay men and lesbians (63%).
Two in five bisexual people (42%) hide or disguise their sexual orientation at work for fear of discrimination.
A 2021 report published by
SurvivorsUK
has found that nearly half of gay and bisexual men have experienced sexual assault. And in relation to domestic abuse,
Galop
has written an interesting report.
Dunlop, et al
.'s 2020 study found that Bisexual people had up to six times the odds of engaging in non-suicidal self-injury compared to other sexualities.
Bisexual+ people make up an estimated 50% of the LGBTQ+ community, and therefore it's no surprise that biphobia and bisexual erasure are such prevalent issues. Biphobia is defined as a prejudicial attitude toward people that identify as bisexual+ based on negative and incorrect stereotypes, and bisexual+ people are often subject to unique stereotypes that are not typically experienced by other sections of the LGBTQ+ community. We all have a part to play in the fight to end biphobia. Be sure to call out misinformation, myths and stereotypes whenever you encounter them - your bi+ friends will thank you for it.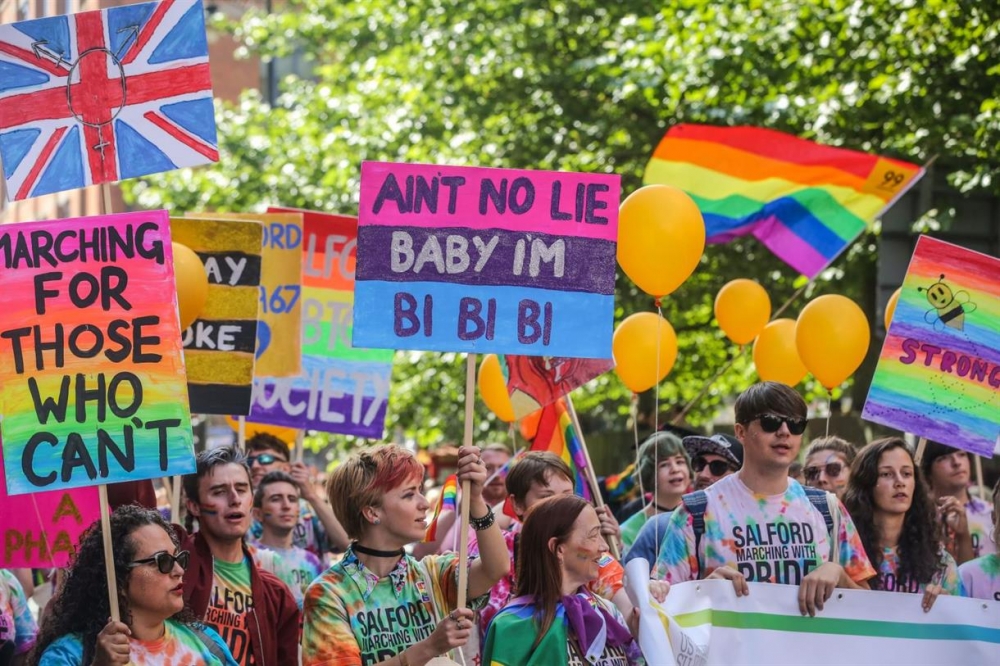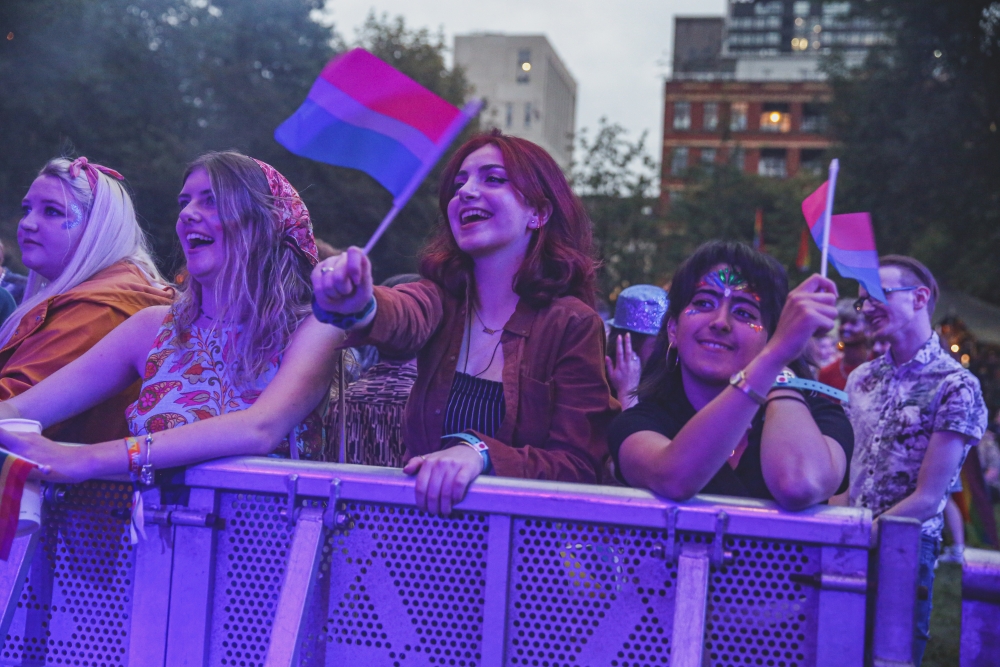 A common misunderstanding around bisexuality is the belief that the 'bi' in bisexuality refers exclusively to 'two' genders, ie. 'men' and 'women'. The prefix of 'bi' in 'bisexual' comes from the greek prefix for 'two', and some argue that this can only mean attraction to men and women, therefore reinforcing the gender binary.

In reality, many words that describe sexuality were originally rooted in the gender binary. This was due to limited understanding of gender at the time by larger society. For example: "heterosexuality" has the prefix hetero- which comes from Greek, meaning "the other of two; different." However, the historical and cultural definition of the term bisexual has always referred to more than one gender, and the current definition is not specifically binary. ~ The Trevor Project

It's widely known that gender and attraction are not limited to binaries, and therefore bisexuality as a general term signifies attraction to two or more genders, rather than two genders alone. Whist attraction to only men and women may be true for some, this is definitely not the case for the entire bisexual+ community.

Allies! Challenge this myth by explaining that, like other sexualities, bisexuality is a spectrum and is not defined by binaries.

Bisexuality does not equate to dating exclusively within the gender binary, and to assume this erases the experiences of non-binary, gender non-conforming, agender and genderfluid people, and all of the people who fall under the trans umbrella that identify as bisexual+, or that date those who are. Many bisexual+ people are trans themselves, and many date trans people.

Non-binary is an umbrella term encompassing many individual gender identities, including but not limited to: bigender, pangender, genderfluid, agender and gender neutral. The meaning of "bisexual" and "biromantic" can of course include non-binary people, which is why bisexuality and biromanticism are about experiencing attraction to two or more genders.

Allies! Challenge this myth by using gender inclusive language and explaining that bisexuality as an identity is inclusive of trans and non-binary people.

Bisexuality has long been a highly sexualised identity in pop culture, the media, within our own communities and wider society. Bisexuals are not immoral, deceiving or promiscuous by nature, and are no more likely to engage in multiple relationships at one time than those of other sexual orientations. This myth also perpetuates the idea that being promiscuous is a bad thing and the this makes a person unworthy of love. Sex positivity and having multiple partners are not a 'toxic traits' or behaviours, and do not equate to a person being unfaithful. The two are not mutually exclusive! If you fear your bisexual partner may be unfaithful to you because of their identity, then your problem is with those who don't practise monogamy - not bisexuals.

Allies! Challenge this myth by unlearning any internal prejudices surrounding bi+ relationships, calling out misinformation when you see it, and actively supporting your bi+ friends' relationships - regardless of gender.

This is one of the most common myths about bisexuality, likely stemming from the belief that bisexual+ people 'can't make up their minds'. Bisexuality is not some kind of restless purgatory between other sexual orientations. These ideas are wildly inaccurate when referring to the bisexual+ community as a whole, but it's also vital to remember that exploring your sexuality is not always linear. Sexuality can be fluid and complex and it is okay to not have it all figured out immediately. And if that means someone's experience of exploring their sexuality has lead to them coming out as bisexual+ initially - then that is okay and is not something to be ashamed of.

Allies! Keep in mind that sexuality can be fluid, validate your bisexual+ friends and their identities and don't make assumptions about someone's sexual orientation.

Bisexual+ people should not have to prove their dating history to have their sexuality believed or taken seriously. Some people go decades before they realise they are bisexual+, some know before they are ever in a relationship, and many bisexual+ people know they experience attraction to more than one gender from a very young age.

It is not necessary to have had a sexual or romantic experience with a man or a woman before identifying as bisexual+, and to perpetuate this myth is extremely harmful to bi+ people and non-binary communities. This myth can lead bisexual+ people to feel uncomfortable about coming out, and like their experience of bisexuality is 'fake' or only real if they meet certain requirements. A person's bisexual+ identity is valid regardless of their dating history, or the gender identity of their current partner.

Allies! If a friend or a loved one shares their bisexual+ identity with you, don't make the first question you ask about their dating/sexual history.

As bisexuals, we often get asked what 'percentage of gay' and what 'percentage of straight' we are. The truth is that bisexual+ people are… 100% bisexual+.

Bisexuality is not a modern concept. People have been attracted to two or more genders throughout recorded history and across many different cultures — from the ancient Greeks and Japanese to Native Americans. The assumption that bisexual people are 'half gay' and 'half straight' doesn't only harm bi people, but the entire queer community.

Sexuality exists on a spectrum and it's important to remember that experiences of bisexuality vary widely, and often include different types of attraction to different genders, in different ways.

Some bisexual people are overwhelmingly attracted to men and occasionally attracted to women. Some bisexual people are overwhelmingly attracted to women and occasionally attracted to men. Some prefer to date genderqueer or gender non-conforming partners. The spectrum of bisexual people includes all kinds of individual preferences. The only thing that bisexual people have in common is that they are attracted to people of more than one gender. ~ GLAAD

Allies! Challenge this myth by understanding that bisexual+ attraction comes in many different forms.
Resources
If you are looking to engage with like-minded people, are unsure of where to find support, or if you're just looking for a little more information, you can find help and support from the following local groups.
BiPhoria
is the UK's longest-running bi organisation - check out their website for information.
The Q42 Project
- queer culture meets wellbeing peer support in a weekly group for LGBTQ+ people aged 13-18.
LGBT Foundation
provides a wide range of support services to lesbian, gay, bi and trans + people.
LGBT Switchboard
provides information, support and referral service for lesbians, gay men and bisexual and trans people – and anyone considering issues around their sexuality and/or gender identity.
The Proud Trust
is a life saving and life enhancing organisation that helps LGBT+ young people empower themselves, to make a positive change for themselves, and their communities.
The Trevor Project
have put together an extremely useful and informative document on how you can better support bisexual+ people - especially bi+ youth.
Here's another great resource
on how to be a Bi+ ally.