A new monthly offering from Superbia, Superbia Cinema is a celebration of queer film taking place at the fabulous Ducie Street Mini Cini.


Each month, Superbia showcases a series of short films by talented LGBTQ+ creatives, and screenings are often followed by a special Filmmaker Q&A.
Superbia Cinema is a great way for film enthusiasts and those interested in LGBTQ+ arts to come together and immerse themselves in queer culture, and offers an excellent opportunity for attendees to learn more about each film's production process, directors, actors, filmmakers and more.
We want to make sure that LGBTQ+ arts & culture is accessible to all - that's why all of our Superbia Cinema events are completely free to attend.
Follow Superbia
on social media to stay up to date on all things Superbia Cinema and be the first to know when free tickets are available!
Superbia Cinema returns to Ducie Street Warehouse Mini Cini this month for two special screenings of Todd Stephens' comedy drama, Swan Song!


Join us as we present this fantastic international feature-length comedy drama - a Superbia Cinema first!

EVENT DETAILS

Thursday 26th May, Ducie Street Warehouse Mini Cini
Screening 1: 5:30pm - 7pm
Screening 2: 7:30pm - 9pm
RUN TIME: 105 Mins
Please note: Tickets are limited to 1 per order. Each attendee must register for their own ticket.
>> BOOK NOW <<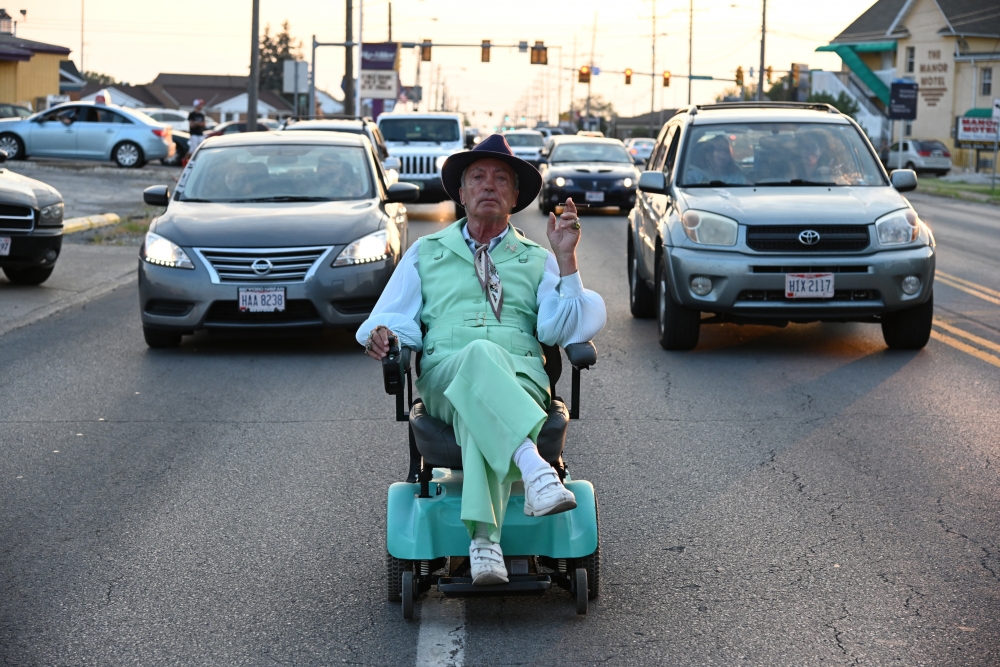 SWAN SONG
A Film By: Todd Stephens
Starring: Udo Kier, Jennifer Coolidge, Linda Evans, Michael Urie
Retired hair stylist Pat Pitsenbarger (Udo Kier) escapes his nursing home to embark upon an odyssey across his small town to style the hair of his dead 'frenemy' for her funeral, confronting the ghosts of the past and rediscovering his sparkle along the way.
Swan Song is a comical and bittersweet journey about rediscovering oneself, and still looking gorgeous even at death.
Winner: NewFest Film Festival 2021 Pride Audience Award
Official Selection SXSW Film Festival 2021 (World Premiere)
Official Selection Frameline Film Festival 2021
>> FIND OUT MORE & BOOK <<
SUPERBIA CINEMA ARCHIVE
Previous screenings
March
In March, Ducie Street Mini Cini hosted their 'Coming Of Age' takeover.

Back by popular demand and following two sold-out Superbia Cinema events, Superbia presented four short pieces of queer filmmaking curated by
Joshua Hubbard
:
Baba
Sam Arbor and Adam Ali
Ladies Day
Abena Taylor-Smith
Dragged Up
Laura Jayne Tunbridge
Come
David McShane
February

Febuary's Mini Cini theme at Ducie Street Warehouse was 'Love and Community', and we were thrilled to screen a special LGBTQ+ History Month digital adaptation of Alexis Gregory's critically acclaimed 'Riot Act', presented by Emmerson & Ward.
January

In January, Ducie Street Warehouse Mini Cini hosted their Wellness & Mental Health take over. We were thrilled to screen three fantastic works:

A Love Letter
Written by Joshua Hubbard and directed by Joshua Hubbard and Lee Baxter.

The Cost of Living
Written and directed by Alice Trueman

Requiem
Directed by Emma J. Gilbertson and written by Laura Jayne Tunbridge