A new monthly offering from Superbia, Superbia Cinema is a celebration of queer film taking place at the fabulous Ducie Street Mini Cini.


Each month, Superbia showcases a series of short films by talented LGBTQ+ creatives, and screenings are often followed by a special Filmmaker Q&A.
Superbia Cinema is a great way for film enthusiasts and those interested in LGBTQ+ arts to come together and immerse themselves in queer culture, and offers an excellent opportunity for attendees to learn more about each film's production process, directors, actors, filmmakers and more.
We want to make sure that LGBTQ+ arts & culture is accessible to all - that's why all of our Superbia Cinema events are completely free to attend.
Follow Superbia
on social media to stay up to date on all things Superbia Cinema and be the first to know when free tickets are available!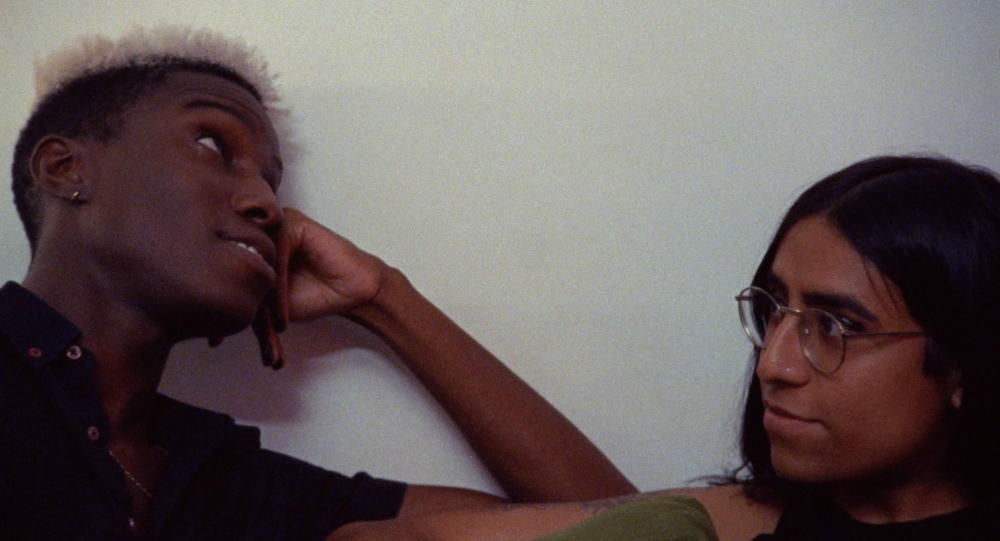 Superbia Cinema returns to Ducie Street Warehouse Mini Cini this July for two back-to-back screenings of LGBTQ+ feature film 'So Pretty'.
Join us Monday 25th July as we present a double screening of So Pretty, directed by Jessie Jeffrey Dunn Rovinelli.

EVENT DETAILS
Monday 25th July, 6pm - 9pm
Ducie Street Warehouse Mini Cini
--
SCHEDULE
Screening 1 - 18:00 - 19:30
Screening 1 - 19:30 - 21:00
--
Please note: Free tickets are limited to 1 per order. Each attendee must register for their own ticket.
So Pretty
Directed by Jessie Jeffrey Dunn RovinelliFour young queers in New York City struggle to maintain their proto-utopian community against the outside world as their lives curiously merge with the 1980's German novel "so schön" by Ronald M. Schernikau.
A transgender visual artist, Tonia, comes to New York City in 2018, where she meets her American boyfriend, the academic Franz, and works on an new exhibition of a work built around the legacy of German author Ronald M. Schernikau. Tonia and Franz talk politics, art, and love, go dancing, drink coffee, fuck, protest, and organize alongside their friends, the couple Paul and Erika, a transwoman and musician, and Helmut, a transmaculine political radical. When Paul becomes injured by the police following a political action, their social space is momentarily shattered. At the same time, the audience comes to realize that their lives and the film are morphing into a version of Schernikau's novella so schön, a communist-themed depiction of four lovers in 1980s Berlin, read aloud by the characters throughout the film in voice-over and at the art installation. The film is overlaid with a mosaic of music from Rachika S, who also plays Erika, and a host of female electronic musicians.
An investigation of leftist politics and femme identity in the context of an increasingly right wing world, So Pretty moves freely between fictional depictions and semi-documentary, adaptation and translation, looking towards the artistic and personal worlds its characters generate across time and culture as a space for new tensions and potentials.
"It will all work out, little mouse. It will be something totally different than we can imagine." -- Ronald M. Schernikau, so schön
Jessie Jeffrey Dunn Rovinelli
Biography and Filmography


Jessie Jeffrey Dunn Rovinelli (b. 1988) is a film director, editor, colorist, and critic living in Brooklyn. Her first feature, the performative documentary Empathy, premiered in FID Marseille in 2016 and received the Prix du CNAP.

"We've Loved You So Much," short, 2010
"Fuck Work," short, 2015
Empathy, feature, 2016


Director's Statement

When I discovered Ronald M. Schernikau's novella from which this film is adapted, it slipped into subconscious, quietly becoming a lynchpin I oriented myself around me as I came to rearticulate my approach to both my body and politics as both became increasingly unbearable for me. Years later, it became clear that the way to repay this debt to the work was to continue this dialogue through a film, as a way of attempting to speak to an important figure I would never be able to meet due to his untimely death.

I chose to make a work that was a translation and a transposition rather than a traditional adaptation, both maintaining his written text and inserting my interventions into it. If the novel documents, roughly, the author's life and loves and politics, I've done roughly the same, making a fiction that moves towards documentary, in a sort of opposite move to my last film, a documentary that moved towards fiction, taking the social and artistic practices of Schernikau and my actors as a site for continued investigation. I've tried to maintain the tensions of contemporary US milleu and the tensions inherent in the novel and the process of adapting it, but the overwhelming approach was one that tried to maintain its stunning gentleness, prettiness, it's attention to gesture and presentation, and its ability to locate these as a site of utopian practice in the here-and-now. Over the years, this has come to seem a fragile path forward.

And so I've made a deliberately "superficial" film that stakes a claim to the capacity of sensuous community contained in that term, that takes that superficiality as an important, real, and powerful aspect of a project of building new social relations written off by a dominant capitalist understanding of "depth." I've attempted to make something open and inviting, taking the rhythmic looping patterns of dance music as my structure and the everyday choreography of bodies as my material, with the hopes of making a film that through a certain "prettiness" can render possible a desire for new ways of being, to see the contours of new bodies and selves and relations.

In the end it is, of course, a love letter, one I hope other can share in. It is also, of course, a coming-out film for me as a transgender woman, but I hope it can be more than that, that it can locate the utopian in diverse ways of being bodies and moving bodies, despite or within in the horror of the here-and-now that Schernikau so radically posits, that it can open for others the political and personal doors that were opened for me.

~ Jessie Jeffrey Dunn Rovinelli
SUPERBIA CINEMA ARCHIVE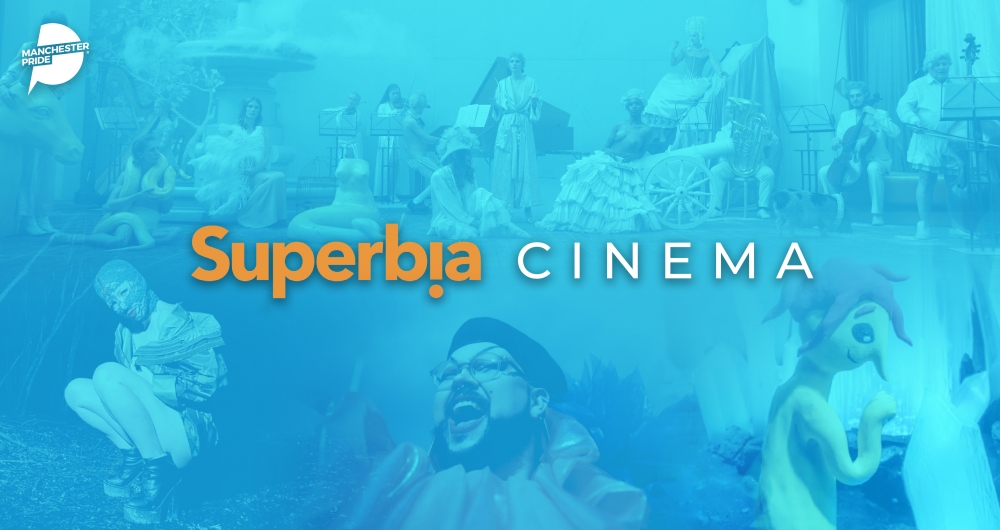 Previous screenings
June
The theme at Ducie Street Mini Cini in June was 'Otherness', and Superbia Cinema retuned to showcase four fantastic short films by LGBTQ+ creatives. Guests also enjoyed
a special filmmaker Q&A with Jaii Andrew, choreographer of
Anywhere Is A Dancefloor;
Divina de Campo, drag icon and performer in the surreal queer fantasia
Diva;
and Lina Kalcheva, award-winning animation director of
Other Half
.
TEASE - Directed by Jessica Brady


A filmmaker delves into the world of online sex workers by becoming one herself using a false persona on OnlyFans. Realising it's not as straightforward as she first thought, she begins pushing her own boundaries to attract followers. But will it ever be enough?
OTHER HALF - Directed By Lina Kalcheva
Other Half is the story of Ren, an Individual Being on a quest to find love and finally become complete. Other Half explores the ways in which changing yourself to be in a relationship won't make you complete, and that true completeness can only come from within.
DIVA - by Adam Csoka Keller
In this surreal queer fantasia on classical music, Baroque iconography, and scandalous first-century verse, drag prima donna Divina de Campo premieres an original operatic aria with chamber orchestra by composer V. R. Alevizos, enacting a space where the drag diva and the opera diva share the same skin.
ANYWHERE IS A DANCEFLOOR - Directed by Mat Beckett
'Anywhere is a Dancefloor' is a new collaboration between  choreographer  Jaii Andrew, and drag artist & cultural producer, Fatt Butcher, produced by The Motion Dance Collective. Through celebrating the creativity, resilience and fierce spirit of Birmingham's LGBTQ+ nightlife community, this new work is an invitation to the city to create their own dancefloors anywhere and everywhere.
May
Our last edition of Superbia Cinema saw a double screening of Todd Stephens' star-studded comedy drama,
Swan Song,
featuring Udo Kier, Jennifer Coolidge, Linda Evans and Michael Urie.
Retired hair stylist Pat Pitsenbarger (Udo Kier) escapes his nursing home to embark upon an odyssey across his small town to style the hair of his dead 'frenemy' for her funeral, confronting the ghosts of the past and rediscovering his sparkle along the way.
Swan Song is a comical and bittersweet journey about rediscovering oneself, and still looking gorgeous even at death.
March

Back by popular demand and following two sold-out Superbia Cinema events, Superbia presented four short pieces of queer filmmaking curated by
Joshua Hubbard
for Ducie Street Mini Cini's 'Coming of Age' takeover in March.
Baba
Sam Arbor and Adam Ali
Ladies Day
Abena Taylor-Smith
Dragged Up
Laura Jayne Tunbridge
Come
David McShane
February

Febuary's Mini Cini theme at Ducie Street Warehouse was 'Love and Community', and we were thrilled to screen a special LGBTQ+ History Month digital adaptation of Alexis Gregory's critically acclaimed 'Riot Act', presented by Emmerson & Ward.
January

In January, Ducie Street Warehouse Mini Cini hosted their Wellness & Mental Health take over. We were thrilled to screen three fantastic works:

A Love Letter
Written by Joshua Hubbard and directed by Joshua Hubbard and Lee Baxter.

The Cost of Living
Written and directed by Alice Trueman

Requiem
Directed by Emma J. Gilbertson and written by Laura Jayne Tunbridge