Welcome to our Superbia Guide to Pride!
This year, we're celebrating Superbia Weekend by showcasing a calendar of fantastic queer events around the city.

Superbia is proud to have funded a fantastic selection of events taking place on and around Manchester Pride Festival Weekend. From events designed to help you prep for Pride, to celebrations of queer life and love and opportunities to connect with your local community; there really is something for everyone.

Check out this year's guide below and get involved!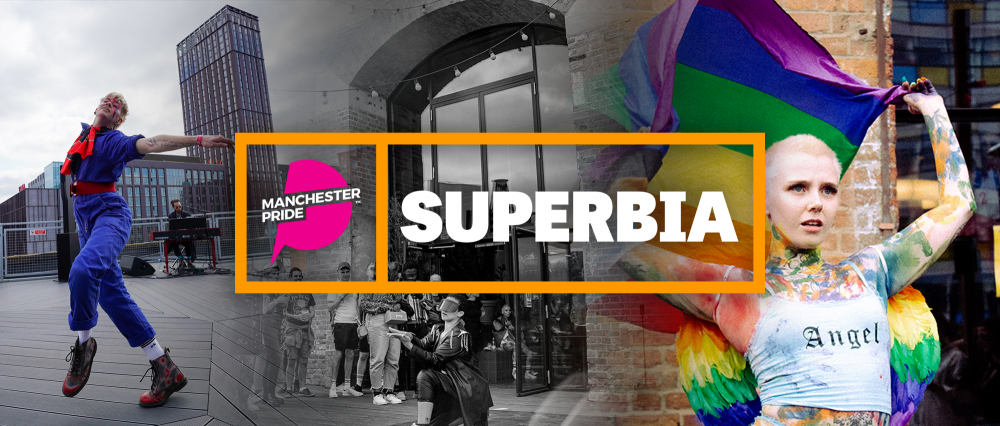 Thursday 17th August
Queers to the FrontThursday 17th August, 7:30pm - 11pm Mirage BarFREE, TICKETED
Join us at Mirage Bar Manchester on August 17th as we put Queers To The Front for our Pride Party! You can expect an incredible evening of music, burlesque, dance, poetry, a DJ playing all your favourite pride bangers and much more.
Acting Through Song MasterclassThursday 17th August, 1pm - 3pm
Sonata Piano & Cabaret LoungeTICKETED
Led by the critically acclaimed cabaret artist, Jas Nisic who was OffFest nominated for Best Theatre for their cabaret which was featured at the Greater Manchester Fringe, Sonata Piano & Cabaret Lounge and the VAULT Festival. Observe a masterclass with artists who are participating in our Cabaret Artist Development Scheme in collaboration with Sonata Piano & Cabaret Lounge, work with industry leading creatives in Manchester, to develop performance and vocal skills; and how to explore storytelling through song. You will be able to develop skills in: Vocal technique; Acting through song; Microphone technique; Storytelling. Though not actively participating, we encourage observers to take notes and ask questions about acting through song and the industry as a whole.
Please note: This venue is not wheelchair accessible.
Tuesday 22nd - Thursday 24th August
Manchester LGBTQ+ Trail: Discovery Walk
Manchester City Centre
TICKETS

Discover centuries of LGBTQ+ Manchester history with a walking trail and guided tour hosted by local playwright and guide, Chris Hoyle – and some very special guests!
From Victorian drag balls to Canal Street, the Campaign for Homosexual Equality and the city's famous Pride Parade, Manchester has always led the way with queer activism. Follow the trail to explore LGBTQ+ stories whist celebrating and reflecting on the city's activism, resilience, and progress.
The 2-hour city centre walk explores locations to be proud of such as the Gay Village, The Beacon of Hope, Alan Turning Memorial and The Hacienda to name a few!
Tuesday 22nd August, 6pm, with Guest Host, Kate O'Donnell
Wednesday 23rd August, 6pm, with Guest Host, Paul Fairweather
Thursday 24th August, 1pm, with Guest Host, Louise Wallwein MBE
Thursday 24th August, 6pm, with Guest Hosts Anna Phylactic and Annie Wallace
Tickets are £10 each and all proceeds going to Manchester Pride Charity.
The trail has been commissioned by Manchester's Accommodation BID (city centre hotels) to celebrate and welcome visitors to the city over the Manchester Pride Festival.
Wednesday 23rd August
Bisexual BaddiesWeds 23rd & Thu 24th Aug, doors 7pm for 7.30pm start53TwoTICKETED

Bisexual Baddies Chanje Kunda is premiering a new multimedia performance entitled 'Celestial Bisexual' as part of a thrilling Triple Bill Alongside: Kitty Velour, a pole dance goddess, booty-popping showgirl and dreamy aerial bisexual artist whose performances are a celebration of female sexuality in its most unapologetic and unbridled form. Afshan Lodhi Presents 'How To Eat Mangoes', a performative, interactive lecture that takes the audience through the intricacies of the mango and unearths the hidden sexual core that sits in the centre of our beings.
Wheelchair accessible. Contains themes of a sexual nature.


Manchester LGBTQ ESEAs and their Allies Meet-upWednesday 23rd August, 6.30pm - 9pm
FREE, TICKETED
With huge thanks to Manchester Pride's Community Grant, Voice ESEA and Tan's Topics are able to kickstart an ongoing project for LGBTQ ESEAs in Manchester and the Northwest called MCR ESEA PRIDE! We're starting with a meet-up where there will be a panel discussion on topics specific to people within our intersectional community, book giveaways from Queer Lit, and food provided by local ESEA caterers.
Please note: This event is predominantly aimed at Manchester-based East or Southeast Asians who identify under the LGBTQ umbrella. Allies are welcome (in particular non-LGBTQ ESEAs and non-ESEA LGBTQs) but we do reserve the right to cancel people's tickets if there is an imbalance of attendees. The topics we will be discussing may be triggering or emotional for some. This event is alcohol-free.

Thursday 24th August
Loud and Proud: Vocal Connections WorkshopThursday 24 August 2023, 6pm - 8pmStoller HallFREE, TICKETED
Join composer/performer Rylan Gleave in an inclusive workshop at The Stoller Hall for trans and queer voices. This session will give singers, from beginners to more confident performers, the opportunity to learn and make new music together in a trans/queer led and supportive environment. Singers will work in groups exploring new ideas and techniques, and have the opportunity to learn from accomplished vocal leaders about collaborative singing, vocal health, and well-being. Experience not required – willingness to make noise appreciated! Funded by Manchester Pride's Superbia Festival Fund.
The Stoller Hall is a fully accessible venue, including wheelchair space booking, accessible toilets and lifts to all levels. Please visit https://stollerhall.com/your-visit/access/ for more information. Please note that some of the songs being performed will include explicit language.

My First Pride: A social mixer for LGBTQ+ adults // LGBT FoundationThursday 24th August, 7pm - 9:30pmWhitworth LockeFREE, TICKETED
Here at LGBT Foundation, we love celebrating Pride and we want to celebrate with you! We know that accessing LGBTQ+ spaces can sometimes be a bit daunting, especially if you've never been to one before. That's why we're bringing together LGBTQ+ people who might never have been to a Pride event before or who might not feel confident coming to LGBTQ+ people. With relaxed socialising and games, you'll have a fun evening getting to know people and might come away with some people to spend Manchester Pride with!
Arrival from 7pm, with invitations to join 'getting to know you' games from 7.45pm.
Please note: This event is for LGBTQ+ people aged 18+. It is centred around LGBTQ+ people who haven't accessed LGBTQ+ spaces before or don't feel confident accessing them, but is open to all LGBTQ+ people.

Friday 25th August

The Trans Social Club
Friday 25th August, 2pm - 6pm
Feel Good Club
FREE

Get down to Feel Good Club on Friday 25th August for a special Trans Social Club, hosted by the amazing Violet Blonde!
• Get ready to march at the Manchester Pride Parade with the help of Rachel Field and a banner making table
• Look fresh for pride with The Vicar's Daughter, who is offering free trims and tidy ups
• Check out Patti Baston's makeup station for expert pride makeup tips

Football PrideFriday 25 August, 10am to 4pmManchester Metropolitan University Business School
TICKETED

Uniting LGBTQ+ people and active allies across the game, Football Pride is coming to Manchester Pride! The main event is a symposium at Man Met Uni on Friday 25 August (10am to 4pm) with inspirational speakers such as out gay footballer Zander Murray and FIFA and WSL referee Stacey Pearson, influencers Mikey Connor and Jake Williamson, trailblazing trans players from TRUK United FC, fan leaders, media and more! There'll also be socials on the Thursday and Friday nights, plus there's the chance to be part of a Football Pride group marching in the Manchester Pride parade on Saturday 26 August. Info and link to sign up
here
.

The Sunday Boys: Queer British VoicesFriday 25 August, 7.30pmStoller HallTICKETED

The Sunday Boys – Manchester's low voiced LGBTQ+ choir - are proud to present Queer British Voices, a journey across the many musical genres the UK has to offer. Featuring music by Sigala/MNEK, Self Esteem, Rina Sawayama as well as a World premiere from Fraz Ireland and Ella Otomewo, this concert at The Stoller Hall will show off a mix of contemporary classical, musical theatre and pop artists from here in the UK and across the globe.
The Stoller Hall is a fully accessible venue, including wheelchair space booking, accessible toilets and lifts to all levels. Please visit https://stollerhall.com/your-visit/access/ for more information. Please note that some of the songs being performed will include explicit language.


Sapphic Showcase: Pride Cabaret + Open Mic Night + Social MixerFriday 25th August, 7pm - 10pmHOMEFREE, TICKETED

LGBT Foundation are bringing together some fantastic headliners to entertain you and are inviting YOU to perform in one of their open mic night slots! We're so excited to see all the amazing Sapphic talent Greater Manchester has to offer from poetry, to comedy, and music. After these amazing performances, stick around for some opportunities to socialise and meet some people before Manchester Pride.
SAFERFriday 25th August, 7pmThe Kings ArmsTICKETED

Inspired by the true stories of members of the International Gay Rugby club, the Hull Roundheads, Safer is a hard hitting, tender and funny exploration of the toxic side of team sports and how LGBTQ+ inclusive clubs tackles it head on. For 'Butterfly Boy' – "sitting alone in a Fiat 500 in the pouring rain – the reasons for joining a gay and inclusive rugby union team in a rugby league obsessed city didn't seem that apparent. But once in the changing room a whole new world opens up." Inspired by the true stories of members of the International Gay Rugby club, the Hull Roundheads, Safer is a hard hitting, tender and funny exploration of the toxic side of team sports and how LGBTQ+ inclusive clubs tackles it head on.
Our Proud Past
Friday 25th - Monday 28th August
Kampus Gardens
FREE
Visit Campus over Manchester Pride Festival weekend to enjoy an open air photography exhibition celebrating the history of Manchester's ground-breaking LGBT+ Centre.


Saturday 26th August
Feel Good Club presents… Feel Good FestSaturday 26th August, 2pm-10:30pmFeel Good ClubFREE, just turn up

Join us for the second edition of Feel Good Fest! A daytime and all-ages community celebration featuring panel discussions and performances from notable and diverse members of the UK LGBTQ+ community. This event will be free to attend and there will be a charity collection point throughout. We will partner with varying corners of our community to offer a truly inclusive event. From speakers, divulging on topics from 'Black Queer Joy' to 'Existing while Trans', to clothes swaps to live music and Cabaret performances. It's an all-day explosion of queer joy!

Sober Gay Socials Saturday 26th - Monday 28th August Community Lane, Gay Village PartyFREE, just turn up

Following on from the success of last year's first ever dedicated Sober Space to be held at a Pride event in the UK, Sober Gay Socials will be returning to Manchester Pride Festival again this year, making the space into an even bigger and better place to celebrate Pride! Supported by The Alcohol-Free Drinks Company, Sober Gay Socials will be providing a fully stocked alcohol-free bar on Community Lane at the Gay Village party, along with a DJ playing Dance, House and Club Classics. We have some amazing acts and events lined up, and for those of you who like to show off your talents, there's even an Open Mic set!
This year's space will also be home to other Manchester based alcohol and drug recovery support groups and agencies, helping to create a real sense of community. Because people in the LGBTQ+ community are more likely to have a dependency on alcohol or drugs compared to our straight counterparts, having these Sober Spaces held at Pride events is more important than ever.
These spaces not only provide people with an opportunity and a dedicated area to celebrate Pride without being surrounded by alcohol, but it also allows those who might be struggling with substance abuse and addiction issues to see that you can have fun without the use of alcohol or drugs—but most importantly that there is a support network out there for you and a welcoming community you can turn to.
This year's Sober Space will be located on 'Community Lane', Chorlton Street at the Gay Village Party. Come and join your Sober Tribe this Pride, celebrate your queerness and have some sober fun in the sun… we can't wait to see you!

Let's Talk About ChemsexSaturday 26th AugustCommunity Lane, Gay Village Party
FREE, just turn up

Let's Talk About Chemsex is a Recoverist Month trailblazer taking place at Manchester Pride Festival, and will see artist Harold Offeh as a 90s radio host. This art installation is the start of a year-long project that aims to explore the queer communities' broad range of experiences of sex on chems. Harnessing the power of the legendary Salt N Pepa track Let's Talk About Sex, to talk about consent, intimacy, and desire.
Themed as a vintage radio show on a Community Lane market stall at the Gay Village Party, Offeh will invite passersby to enter the show as a guest or respond to prompts and questions on the topic of sex on chems, intimacy, and consent. Visitors can interact with the host, or record a message on a special answering machine. Activities allow visitors to contribute words and phrases to a collective song about queer intimacy or they can suggest a track for a collective playlist on consent.
Over the next 12 months, people will have the opportunity to participate in further artist led workshops. Directly informed by the lived experience, the creative outcomes will contribute to the production and presentation of the final artwork over Manchester Pride Festival 2024.


Sexquisite x Riot Manchester Pride Afterparty
Saturday 26th August, 10pm
Rebellion Bar
TICKETED

Sexquisite joins forces with Riot to bring you the ultimate Pride Afterparty! With pop up performances from Sexquisite and DJ's from Riot, we say no to rainbow capitalism and yes to celebrating how powerful and fabulous our community is. Multi-genre, including House, Hip Hop, Slut Pop, Afrobeats, Dancehall, Reggaeton and more.
March with Hidayah at Manchester Pride 2023!Saturday 26th August, 11am - 4pm Manchester Pride paradeTICKETED

Pride Mubarak! This year, Hidayah LGBTQI (a charity dedicated to LGBTQ Muslims) will be marching at Manchester Pride, insha Allah. Our entry for Manchester Pride this year is based on the theme, Queerly Beloved - a celebration of marriage equality as well as a recognition of the work that still needs to be done for trans rights.
We would absolutely love to see you there where you can: Meet other LGBTQ Muslims, including members of the Hidayah team;
March with us, if you feel comfortable*; Get some Hidayah merch with our new logo; Join us for dinner later!
* Many of our members aren't visible, and we completely understand that you may not be comfortable marching publicly. You are welcome to either a) wear a mask or b) just join us later for a meal if you'd prefer. Whatever level of participation you're comfortable with is good with us.
Reeta Loi // R A I NSaturday 26th August, 14:20 - 14:50Gay Village Party, Alan Turing StageTICKETED

Reeta Loi // R A I N is a visionary Storyteller and the Forbes 100 Founder of Gaysians.

RCNQ free hair & beauty services
Saturday 26th August, 12:00 - 18:00
RCNQ
BOOK NOW

Get ready to paint the town rainbow because RCNQ is turning up the pride dial to max! RCNQ are teaming up with Redken and 'It Gets Better UK' to create a world where salons become safe havens for LGBTQ+ individuals to strut their fabulous selves. And guess what? The party's ON during Manchester Pride!
RCNQ are offering FREE Hair, Nail Art, Barber services, Cornrows, and NYX Makeup for the LGBTQ+ community. Talk about being treated like the absolute royalty you are! But that's not all – prepare for a sensory explosion with delightful gift bags, refreshing drinks, and scrumptious snacks!
Don't be fashionably late to this parade! Appointments are limited, so rally up your besties and head to the
booking link
to secure your glammed-up slot and make your Pride celebration truly unforgettable.

Sunday 27th August
Swagga Mcr Pride Closing PartySunday 27th August, 11pm - 4amRebellion BarTICKETED
Nominated for Gaydio's event of the year, Swagga is an LGBTQ+ event which is a celebration of LGBTQ+ POC culture expressed through music and dance, predominantly R&B and Dancehall. ALL LGBTQ+ people and allies are welcome!
Swagga are BACK and closing Manchester Pride Festival off with an absolute BANG! In their biggest venue yet, the Old Skool and Bashment Crew go Head to Head. There'll be TWO ROOMS and a headline performance from Old Skool Favourites 'Platnum' performing their bangers 'Love Shy' , 'What's it Gonna Be' and more. Expect 5 LGBT DJs including our two Special Guest DJs MONIQUE B and London's DJ KASPA joining our Host DJ Stacy Bee, DJ KL and DJ Nkay. Enjoy all your favourite Old Skool R&B, Dancehall, Bashment, Old Skool Garage & U.K. Funky!
Please note: You do not need a Gay Village Party Pledge Band to attend this event.

Wyn n SinSunday 27th August, 4pm - 11pmThe DBATICKETED
Wyn n Sin is a queer African rave that centres the joy and experiences of queer African people, and we're so excited to be back and part of Manchester Pride Festival. Expect stellar performances from Azula Bandit, Jess Rose and Thisguy. Come wyn some waist and shake some ass, heck - maybe gem your teeth with us!

Let's Talk About Chemsex with artist Harold Offeh & Cheddar GorgeousSunday 27th Aug, 2:30pm - 4pmManchester Art GalleryFREE, just turn up!
Hosted by artist Harold Offeh with Cheddar Gorgeous and Duncan Craig OBE, CEO of We Are Survivors, this event is for people with an interest or have had a variety of experiences that contribute to discussions on Chemsex.
This event complements the previous days market stall art installation on Community Lane within the Gay Village. Offeh will introduce the afternoon session with Cheddar Gorgeous and Duncan Craig OBE, offering their thoughts on the recently published report Sex, Chems, HIV & Consent. Then followed by a round robin of creative activities, led by Offeh, to engage with ideas on Desire, Intimacy and Consent. Attendees will then come together to review and reflect on the different responses to the activities.
Let's Talk about Chemsex led by artist Harold Offeh, is the start of a year- long project that aims to explore the queer communities' broad range of experiences of sex on Chems. Harnessing the power of the legendary Salt N Pepa track Let's Talk About Sex, to talk about consent, intimacy, and desire. Let's Talk About Sex (1991) tried to de-stigmatize discussion of sex and desire in popular culture. The track was released at the height of the AIDS pandemic and was accompanied by a now forgotten B'side called Let's Talk About AIDS, featuring the same tune but with lyrics addressing the HIV/AIDS crisis as something to address without shame or prejudice. Using workshops, talks and performance the project seeks to visually map and survey a diverse range of experiences without guilt, shame, or stigma, Let's Talk About Chemsex will draw on this history and aims to support efforts by organisations in Manchester to promote non-judgemental discussions on Chemsex, consent, HIV and queer intimacy.

Wednesday 30th August
Queens of the Desert, a Queer CabaretWednesday 30th August, doors: 7pm, 8pm - 11pmSonata Piano & Cabaret LoungeTICKETED
To Bee Productions are bringing a unique and spectacular queer cabaret "Queens of the Desert" to celebrate Manchester's rich and vibrant LGBTQA+ culture alongside Manchester Pride through poetry, song and unique stories told by emerging, diverse and authentic artists.
The night will feature emerging, established and breakthrough artists creating a memorable evening of cabaret. The event is a showcase of To Bee Productions and Sonata's Cabaret Artist Development Scheme, where performers have worked with industry leading artists to devise a short cabaret set. Creative Writing and Acting Through Song Masterclasses are open to all, so if you want to learn or develop your skills within storytelling please do come along!
Queens of the Desert will be hosted by Jas Nisic, a critically acclaimed cabaret artist and founder of To Bee Productions, a Queer led theatre company who tell stories through the art of cabaret. To get involved with the Artist Development Scheme, follow To Bee Productions on Instagram @ToBeeProd.