We are delighted to be delivering a programme of events for young LGBTQ+ people and allies across Manchester Pride Festival weekend, in partnership with
akt
and
The Proud Trust.
The Proud Place
will be a hub of activity for young LGBTQ+ people over the weekend and our flagship event,
Youth Pride MCR
will take place just around the corner, on Sunday 27th August at Circle Square.
See below for more information about the incredible offerings for LGBTQ+ teens in Manchester!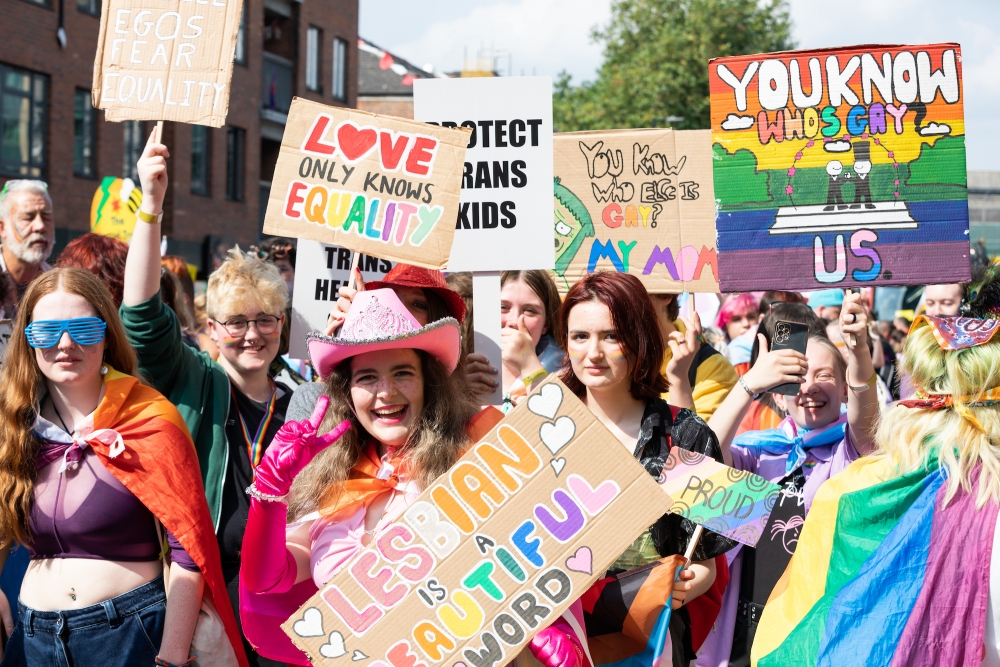 Photography: The Vain Photos
Tuesday 22nd August

Tote Bag Painting
16:00 - 19:00 @ The Proud Place
FREE TICKETS

Attending Manchester Pride this year, but don't want to hold up a placard or banner for hours? Or maybe you want to have a second or third slogan and simply can't make up your mind on which one to choose for your Pride placard? We've got you. At our Pride tote bag painting workshop we will paint our favourite Pride slogans on tote bags that can be used to carry all your essentials at Pride – and all year round for that matter!

Saturday 26th August

Manchester Pride Parade12:00 - 16:00 @Manchester City CentreFREE, just turn up!

Get ready to make history and join the most vibrant and impactful parade in the city!
The Manchester Pride Parade
, part of the renowned Manchester Pride Festival, will take place on Saturday, 26th August, and this year's theme is "Queerly Beloved." It's a celebration of love, community, self-expression, and the transformative power of dance.
Kooth Workshop
15:30 - 17:30 @The Proud Place
FREE TICKETS

This workshop explores different identities under the LGBTQ+ umbrella, potential impacts on this community's wellbeing, and tips to better support the welfare of LGBTQ+ young people. We will also share information about the Kooth website and what support this can offer young people.
There will also be Kooth staff available for drop in conversations, support and signposting during the afternoon. For more information about Kooth,
see here.
This is a family friendly event for LGBTQ+ young people, their families and allies.
Silent Disco
17:00 - 20:00 @The Proud Place
FREE TICKETS

Come join us for a silent disco at The Proud Place over Pride weekend! We'll provide the headphones and music, along with snacks and drinks to keep you going.

Sunday 27th August
Youth Pride MCR 2023Sunday 27th August, 12:00 - 19:00Symphony Park, Circle Square
FREE

We're thrilled to announce this year's Youth Pride MCR line-up! Hosted by Drag Kings of Manchester, the event will feature stellar performances from Danny Beard and Thirsty Girls Collective DJs, a tutorial and performance from Manchester's own Ghetto Fabulous, and a vibrant party with Ginny Lemon.
Get crafty with a range of fun activities designed to nurture your creative side - think tote bag crafting, jewellery making, pride protest sign making and more! You can also take a peaceful Headspace meditation moments in our Wellbeing Zone, too.

MAIN STAGE:
Thirsty Girls Collective DJs
Being Your Authentic Self with Ben Pechey
Youth Pride MCR performance
Ghetto Fabulous Tutorial and performance
Party with Ginny Lemon
Danny Beard performance
Loving Yourself with Vil
Goodbye Performance from Drag Kings of Manchester
ACTIVITIES:
Wardrobe of WondersGlitter Station
Screenprint a pride tote bag
Body Marbling and Rhinestoning
Pride Protest Sign Making
Embroidery and Jewellery Making
WELLBEING ZONE:
Headspace guide to meditation: How to get started
Headspace guide to meditation: How to fall in love with life
Headspace guide to meditation: How to deal with pain
Headspace guide to meditation: How to achieve your limitless potential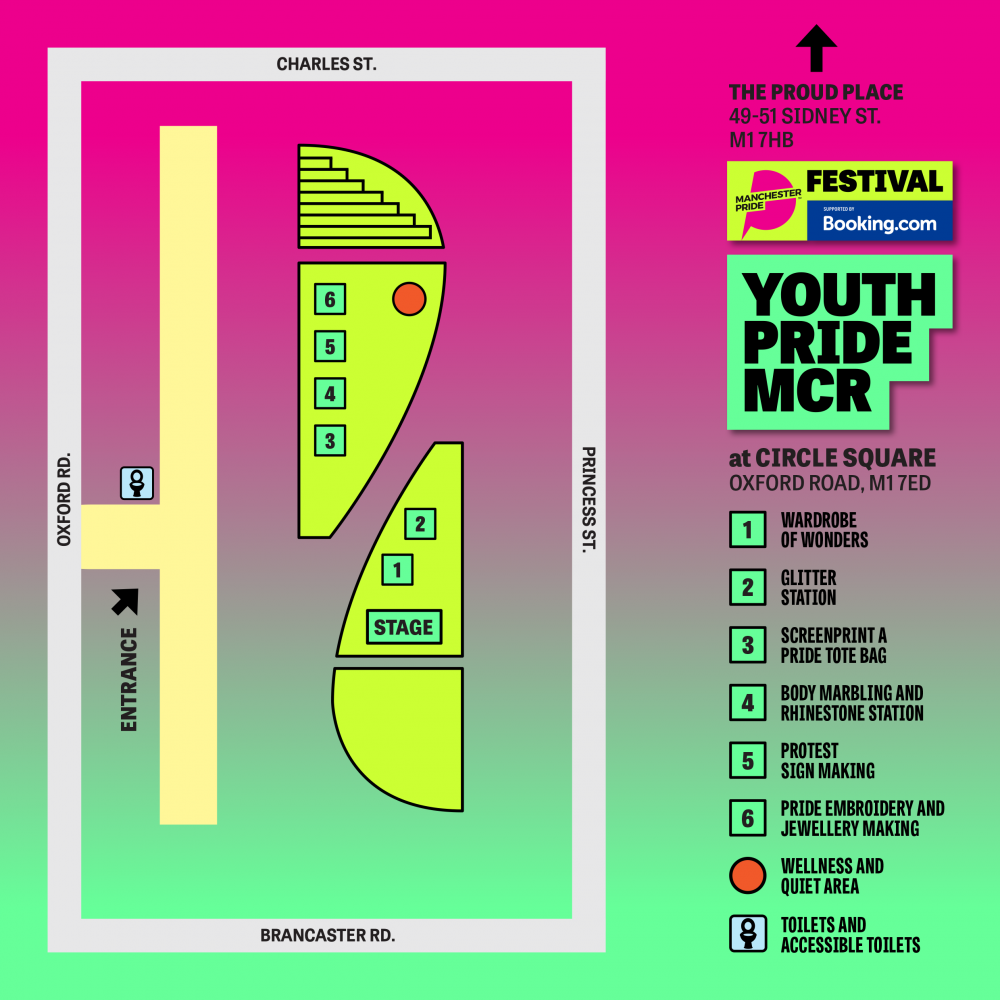 Zine Workshop11:00 - 12:30 @ The Proud Place
FREE TICKETS

Come and join us for a fun, family friendly and inclusive zine workshop.
This is a drop-in session, so feel free to attend at any point. If you are planning on coming please do register here so that we have an indication of numbers for resources.
Mushroom Workshop
12:00-13:00 @ The Proud Place
FREE TICKETS

Join
Stockport Fungi
for a fun, interactive workshop learning about mushrooms and how to grow them in yoghurt pots!
Taking place on our roof terrace (sun permitting!) this workshop will introduce you to all things mushroom and you can even start growing your own on the day.
Green Yoga Workshop
13:00-14:30 @ The Proud Place
FREE TICKETS

The Green Yoga presents: All Day Proud - A Yoga, Breathwork and Meditation Workshop for LGBTQ+ Young people. This Workshop will be an introduction to the many techniques and benefits of Kundalini Yoga, Meditation and Breathwork which includes the importance of Self regulation.
Open Mic
15:00-18:00 @ The Proud Place
FREE TICKETS

Come along to our open mic for Youth Pride MCR! Expect singing, poetry, spoken word and more. Performances are welcome from a wide range of acts. Doors will open at 2:45pm with performances starting at 3pm.
This event is open to young people to perform at and for their friends, families and allies to attend. If you wish to perform, please select an 'Artists Signup' ticket and a member of The Proud Place team will be in touch before the event to finalise your performance and to discuss logistics. If you just want to attend and watch, please select a 'General Admission' ticket.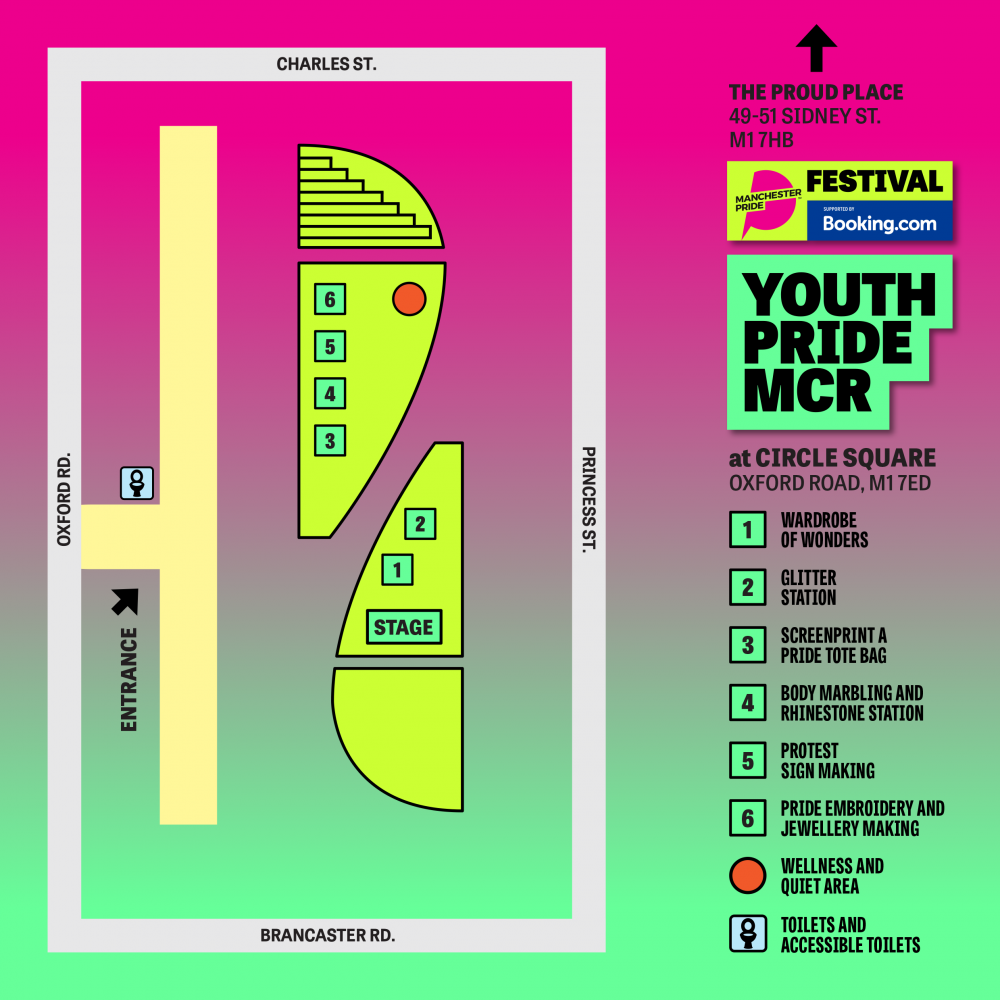 Monday 28th August

Family Brunch and Play Afternoon
12:00 - 16:00 @The Proud Place
FREE TICKETS

If you're looking for something relaxed this Pride weekend for you and your family, we'll be hosting a brunch and play afternoon for LGBT+ people and their families.
We'll have food, crafts and baking for you.
Activities include:
Bird and Blend tea workshop
Biscuit making and decorating
Painting
Lego
T-shirt customisation
Quiet zone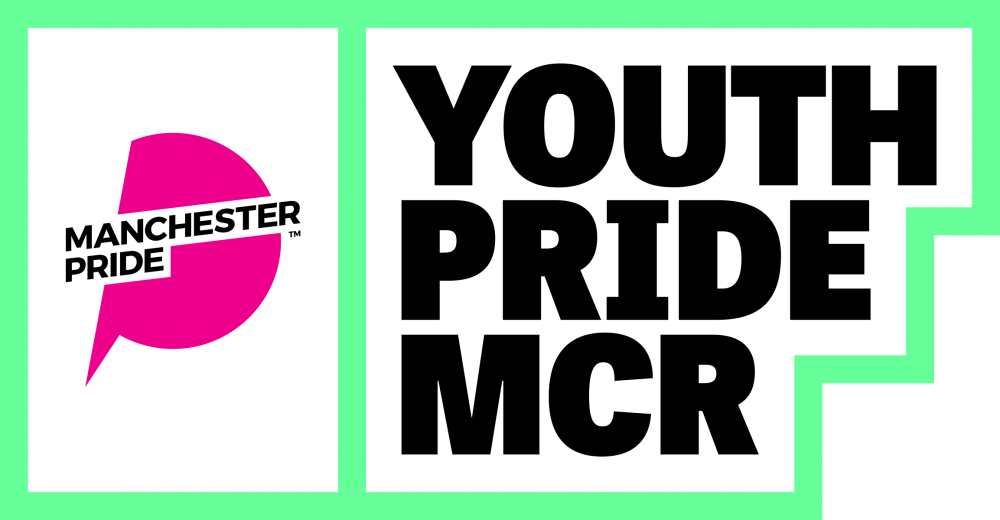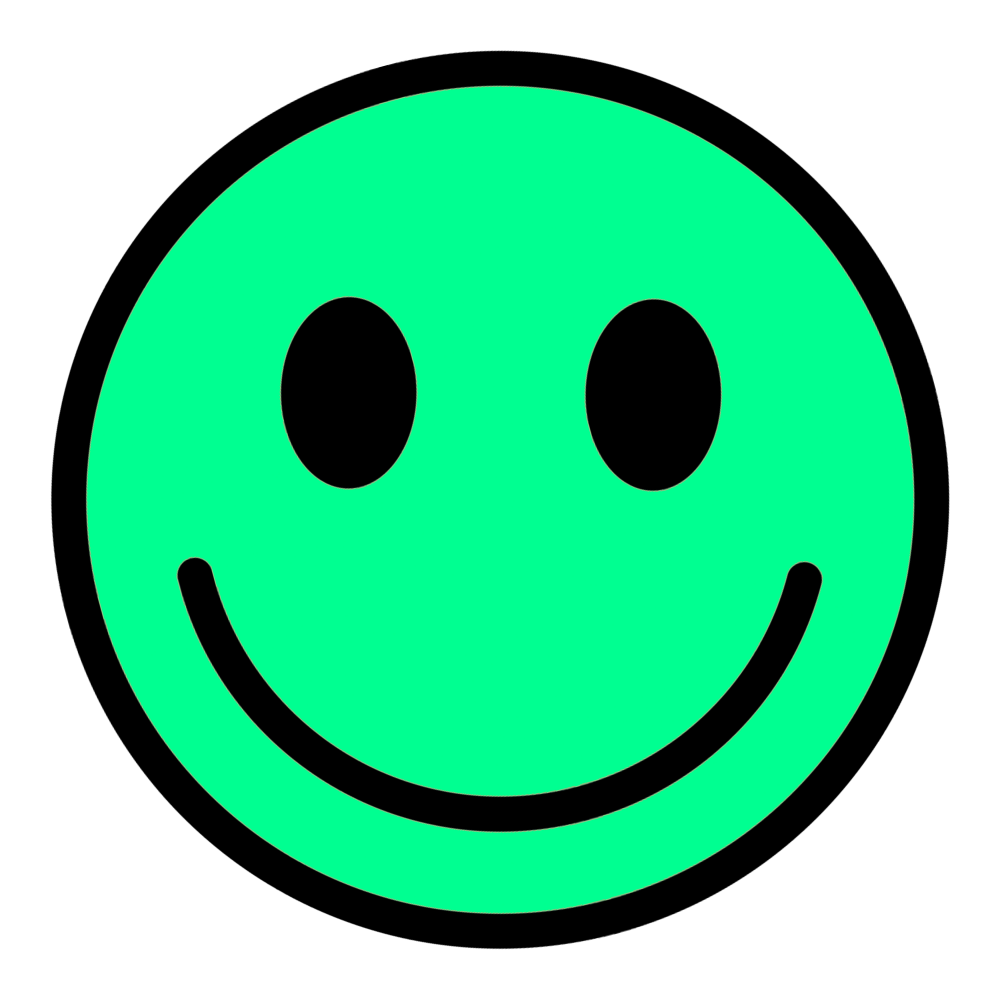 Youth Pride MCR


Youth Pride MCR is a project by Manchester Pride which aims to improve the lives of LGBTQ+ young people and their allies.
We host regular fun and educational Youth Pride MCR workshops, where young people aged 14-18 can develop new and existing skills, make new friends and explore diverse identities in a safe space curated by them.
Our workshops are a great opportunity for like-minded young people to come together and express themselves authentically in a safe, accessible, welcoming and nurturing environment, designed to build confidence, encourage new connections and offer young people a safe space to thrive.

akt


akt was founded in Manchester in 1989 by Cath Hall, a foster carer and ally who noticed a lack of specific care and support for young LGBTQ+ people facing issues surrounding homelessness. Since then, akt has spent 33 years supporting LGBTQ+ young people into safe homes, employment, education or training. 24% of young people facing homelessness identify as LGBTQ+ and 77% of the young people who use our services told us that family rejection and abuse after coming out or being outed was the primary reason for their homelessness. Many of the issues that faced young LGBTQ+ people at akt's founding, including rejection, abuse, and lack of access to housing support and services, are still as present today as they were in 1989.
We help young people access specialist support, find emergency accommodation, and are there in times of crisis, and our long-term goal is to work with policymakers to develop a national strategy on LGBTQ+ youth homelessness. We believe that no young person should have to choose between a safe home and being who they are. Our current projects include Trans Pathway Project, which focuses specifically on supporting trans and non-binary young people, Pathfinder GMBOP, which specifically targets young LGBTQ+ people in Bury, Trafford, and Wigan, and our national support, including 1-to-1 casework and support, mentoring and youth engagement opportunities.

The Proud Trust


The Proud Trust is an LGBT+ youth charity empowering young people to be proud of who they are. The Proud Trust delivers youth work and one-to-one support across Greater Manchester and Cheshire. The charity also runs a national training and inclusion programme for schools, Proud Connections Live Chat, and manages Manchester's LGBT+ Centre, The Proud Place.
The Proud Trust youth groups are a supportive space to meet other local LGBT+ young people, explore a wide range of activities, and be proud of who you are.
The Proud Trust run youth groups across Greater Manchester and Cheshire West and Chester. We are part of a network of LGBT+ youth groups across the UK - Young People can find their local LGBT+ youth group here.
The Proud Place is Manchester's LGBT+ Community Centre. Based in the heart of Manchester on Sidney Street, The Proud Place houses The Proud Trust's growing charity, and serves as a community hub for the wider LGBT+ population across Greater Manchester and beyond.
Proud Connections Live Chat provides online support for LGBT+ young people and the adults in their lives.