Youth Pride MCR is a project by Manchester Pride which aims to improve the lives of LGBTQ+ young people and their allies.


We host regular fun and educational Youth Pride MCR workshops, where young people aged 14-18 can develop new and existing skills, make new friends and explore diverse identities in a safe space curated just for them.

Our workshops are a great opportunity for like-minded young people to come together and express themselves authentically in a safe, accessible, welcoming and nurturing environment, designed to build confidence, encourage new connections and offer young people a safe space to thrive.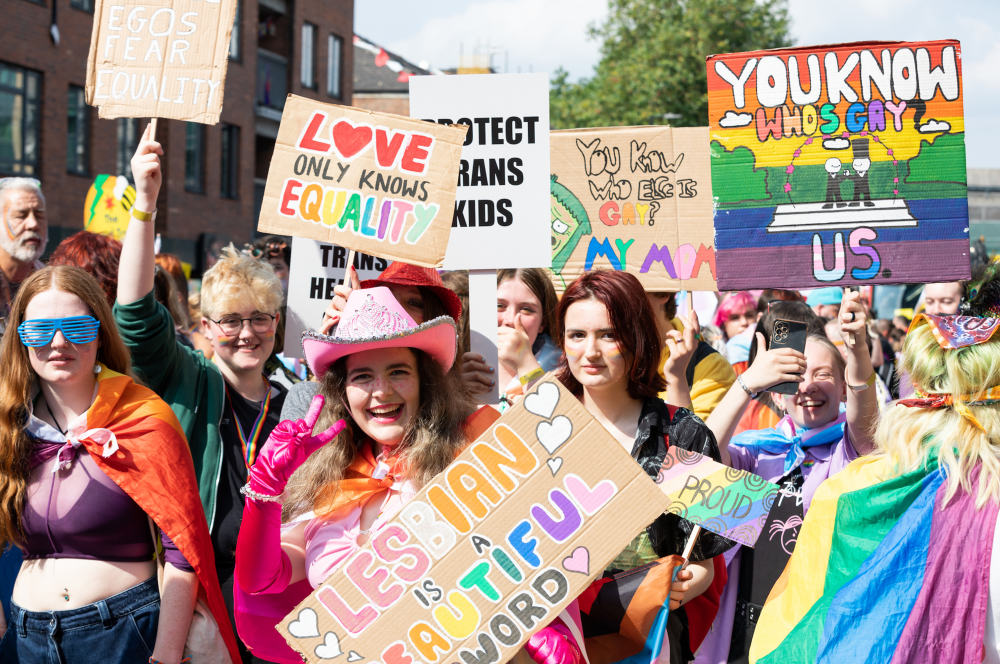 Photography: left - Gemma Parker, right - The Vain Photos
Are you 14-18? We have an exciting opportunity for all young LGBTQ+ people and their allies!


If you want to meet more LGBTQ+ people and their allies, learn about LGBTQ+ activism, go on trips and express yourself in a safe and nourishing space, then get involved with our free Youth Pride MCR workshops!

We hold one workshop a month where you can get involved with content creation for our Youth Pride Instagram account and lots more, plus you'll make loads of new friends and hang out with other LGBTQ+ young people and their allies across the city.

Each workshop will last for one hour and there will be games, quizzes, youth-led projects, special guests and more.
Youth Pride Workshops


Workshops will be led by the Manchester Pride Engagement Team who are fully trained and have lots of experience working with young people - they're also nice and fun!
"I look forward to Youth Pride every month! It's a really great way to connect with other queer people and make friends" - Youth Pride MCR attendee
Some activities and projects will happen across more than one workshop, so it's a good idea to keep coming back and spend more time with your new Youth Pride pals.
If you're under 16, you'll need parent/caregiver consent to join. Workshops will be led by a trained and qualified leader with years of experience, and a member of the Manchester Pride team.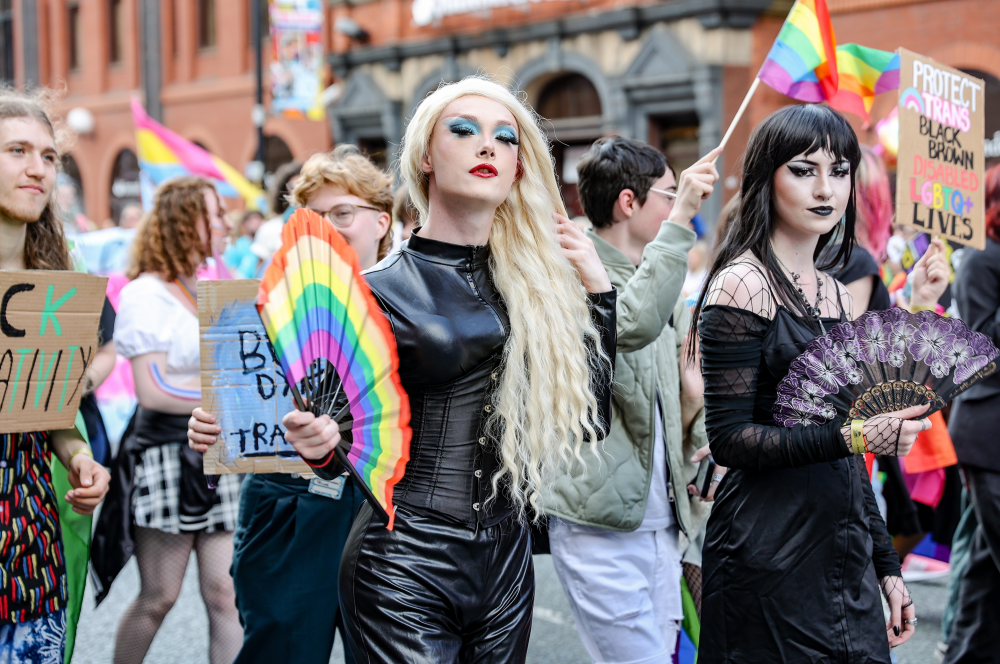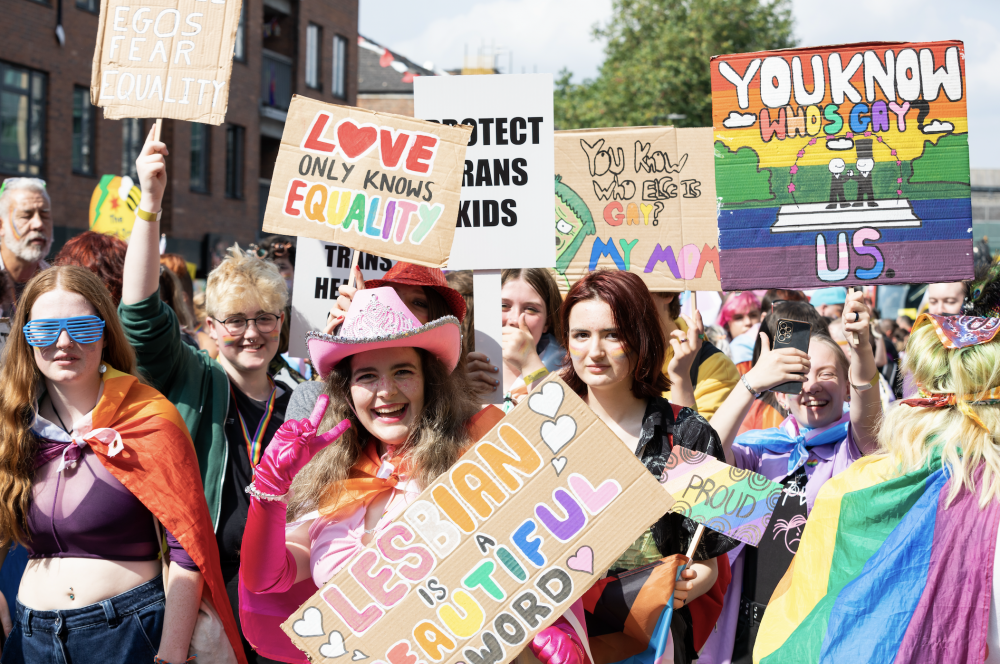 Photography: left - Gemma Parker, right - The Vain Photos
As a member, you get...

Access to our monthly workshops!

Held in person in Manchester city centre. Celebrate LGBTQ+ identity, meet other young people passionate about LGBTQ+ issues, youth led, get involved in activism, curating events and performance pieces, fully accessible venue, safeguarded, DBS checked staff and experienced facilitators.

Access to our trips!

Go on excursions with other LGBTQ+ young people to queer cultural events, art galleries, theatre shows, dinners, gardens, sports events and more! Youth led - if you've got an idea, we'll make it happen! Fully safeguarded and facilitated by DBS checked staff.

The opportunity to walk in the Parade!

Be loud and proud and marching in the Manchester Pride Parade 2023! Celebrate your identity surrounded by other LGBTQ+ young people while being cheered on by the rest of Manchester.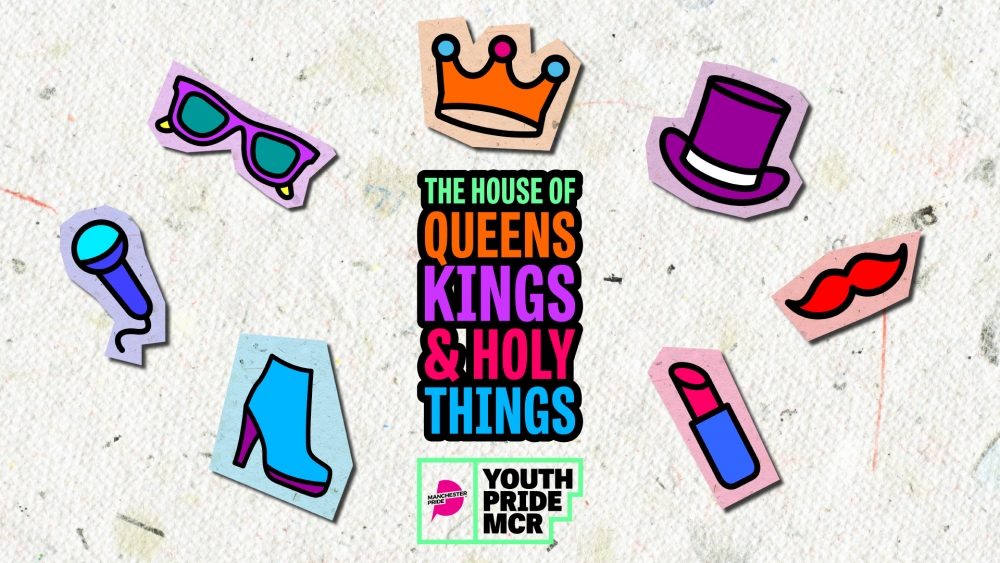 Youth Pride MCR at Manchester Pride Festival
This summer, LGBTQ+ young people got the opportunity to join The House of Queens, Kings and Holy Things and unleash their inner drag superstar! Over the course of five weeks, participants embarked on an exciting adventure of self-discovery and artistic exploration. Our experienced facilitators guided our members through a comprehensive programme designed to help you unleash your inner drag superstar with the opportunity, rounding off with a performance on stage at Manchester Pride Festival 2023! Each workshop focussed on different aspects of drag, including:
1. Building Your Drag Persona: Discover your unique identity and develop a captivating persona that reflects your true self.
2. Makeup Mastery: Learn professional makeup techniques, from flawless foundation to intricate eye looks, that will bring your drag persona to life.
3. Costume Creation: Dive into the world of fashion and design as you explore how to craft dazzling costumes that showcase your style and personality.
4. Performance Prowess: Hone your stage presence, master lip-syncing skills, and explore the art of captivating your audience through performance.
Before you go...

Youth Pride MCR is on Instagram! We collaborate with our Youth Pride MCR workshop attendees to create content by, for and about young LGBTQ+ people and to allow our members a digital space to get creative. Be sure to follow us to stay up to date on all things Youth Pride MCR and find out what our members get up to throughout the year!