On 20th February 1988, a huge anti-Section 28 protest was held in Manchester. Over 20,000 people took to the streets to let their disquiet be heard. At the time, it was one of the largest LGBTQ+ demonstrations ever to take place in the UK. Fast forward to 2022, and Manchester continues to lead the way in the fight for LGBTQ+ liberation.

The Manchester Pride Parade is the city's biggest, with tens of thousands of LGBTQ+ people and allies gathering to march through the city for equality and thousands more lining the streets to take in the spectacular sea of colours.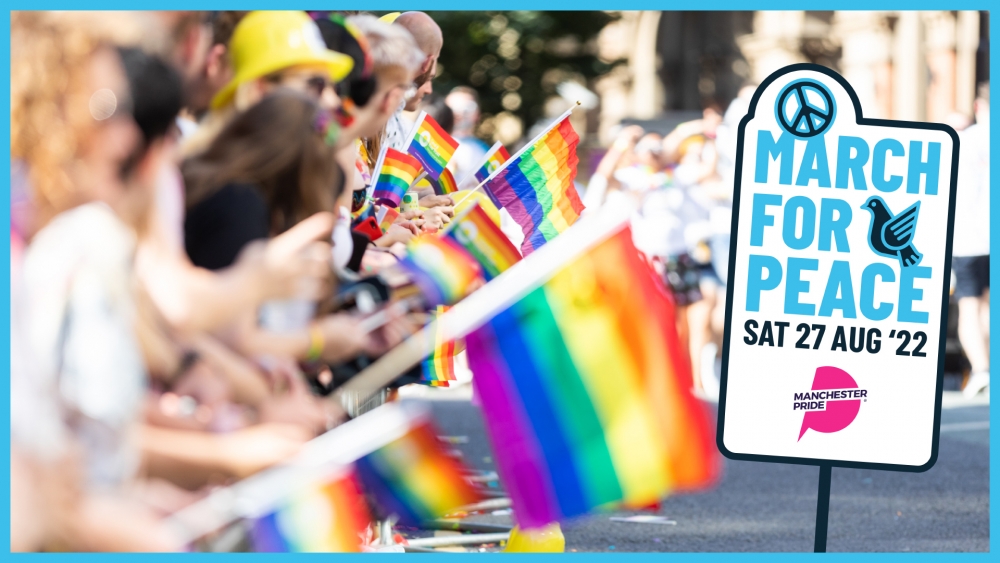 Photography: Manchester Pride Parade
On Saturday 27th August 2022 we call on you to join us to 'March for Peace'


The theme for 2022's Parade is March for Peace, with the importance of peace in a world where all LGBTQ+ people are free to live and love without prejudice at its heart. We originally introduced the theme in 2020 before the pandemic took hold and we were unable to take to the streets. As we look around the world today, this theme has become even more relevant. Conflict within and outside of our communities is rife, and we are calling on our LGBTQ+ communities and allies around Greater Manchester to join in and support us as we March for Peace.


"Our Parade message is loud and clear this year: No one is really free unless we are all free, and no one gets left behind." Mark Fletcher, CEO

This year's Manchester Pride Parade promises to be a show-stopping, feel good procession to wow crowds across Manchester and send the world a big, bright, colourful message that everyone deserves to live and love in peace.
LGBTQ+ people have fought for and achieved so much, but levels of homophobic and transphobic hate crimes have soared in recent years with many people
still
facing discrimination because of their identity. We are calling on our communities and its allies to come together, to embrace and celebrate our differences, and to recognise that everyone deserves the right to be who they are and live their lives in peace.
Making Manchester Pride Events More Accessible to our Communities
We want to invite more LGBTQ+ organisations to join us to march through the streets of Manchester, and so we have reviewed our entry categories this year which will mean more LGBTQ+ organisations and groups will be able to participate for FREE.

New Category: LGBTQ+ Organisations
Previously we had differentiated between LGBTQ+ or HIV community groups or organisations that do not receive any funding from any source, and those that do. From 2022, all LGBTQ+ groups will be categorised as such, whether they receive funding or not.
Manchester Pride is also striving to make its events greener, and we are encouraging groups to register for the parade as walking entries rather than floats.

APPLICATIONS AND OPPORTUNITIES

Manchester Pride Parade
Applications are now open for businesses and organisations wishing to take part in this year's Manchester Pride Parade. Spaces are limited, and we would encourage submitting your application early to avoid disappointment.
>> APPLY TO TAKE PART IN THE MANCHESTER PRIDE PARADE <<
Parade Artist

The Manchester Pride Parade is the most highly visible and is the largest attended event of the Festival. An estimated 250,000 people line the streets of Manchester to join in and see the message and theme of the Parade, and for 2022, organisations will join us in our 'March for Peace'.

This year's Manchester Pride Parade promises to be a show-stopping, feel good procession to wow crowds across Manchester and send the world a big, bright, colourful message that everyone deserves to live and love in peace.

We are looking for an artist with experience leading the creative direction of parades who fully understands the nature of our work and wants to join a passionate and dynamic team.
The artist's key role will be to take Manchester Pride's Parade theme and bring the concept to life.
The artist will be responsible for the visual aspect of the Parade and should be experienced in Parade art and costume design or working with costume designers. The lead entry must be people or pedal powered, so any big make will need to be robust yet light enough to be pushed or carried along the route. Previous experience of creating carnival or parade artwork is essential.
Your submission may focus on big makes to steal the show, or beautiful and creative costumes!
Don't miss out on this fantastic opportunity.
How do I apply?


Please download our
Application Pack
for more information.
Interested candidates should submit their application via email, and send a cover letter and portfolio to daisy.lee@manchester pride.com.

The recruitment process includes two stages – the submission of your portfolio and covering letter, followed by an informal chat or interview at which you may be asked to present your response to a brief.
Applications close Friday 20th May 2022.